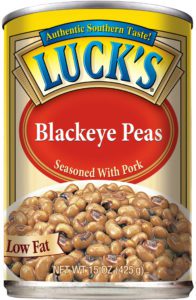 SEAGROVE, N.C. – Our friend Doug Dobey, that fantastico Richmond, Virginia graphic designer, says that he is getting out the Luck's Black Eyed Peas for the New Year's Holiday. Add to it some stewed tomatoes and you have a VERY odd Southern tradition.
We aren't that big fans of black eyed peas (used to think we were but realized we weren't), but there are worse things. And anything Luck's is GOOD.
Luck's was once a tried and true North Carolina brand, but they are now owned by ConAgra, which seems to own so many brands these days.
Their Wikipedia entry says that they were founded as the Mountain View Cannery in 1947 by Ivey B. Luck, Alfred Spencer & H. Clay Presnell. Spencer & Presnell later sold out to Luck and the establishment became known as Luck's. Luck's specialized in pinto beans and other canned vegetables and food products in the Randolph County region.
They are one of the great Mid-Atlantic regional brands, like Richfood, Mrs. Fearnow's, Gill's Hotel Special, Sauer's and Old Mansion.
The Luck's cannery Seagrove was closed by ConAgra in 2002, though the original building is located at 798 State Highway 705 in Seagrove, North Carolina and was reopened by Seagrove Foods Inc.
People call them blackeye peas or black-eyed peas. Either construction is correct.
Long live Luck's.