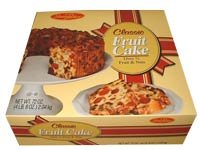 MONTVALE, N.J. – We somehow missed this one over the holidays.
Jane Parker is BACK.
Apparently, the Great Atlantic and Pacific Tea Company (NYSE: GAP) re-introduced Jane Parker Fruitcake, and now is making the selling of this brand a yearly holiday tradition. Could Ann Page spices be next?
As far as we know, they aren't reintroducing the other items that had the Jane Parker name, like bread, but the fruitcake was an American classic. Lollipop museum founder Huntington Hartford would be happy.
It's a good sign for the Great Atlantic & Pacific Tea Company, which is celebrating its 150th anniversary in 2009. The company has enormous amounts of brand goodwill, which it ought to use every way it can.
We are big fans of the history of A&P, and living far away from the closest store, we miss, we miss, we miss the A&P.
And if you missed it like us, they are still selling them on Amazon.
The big question: Do you like your fruitcake hot? Or not.
And the other question for BrandlandUSA readers. Other than Eight O'Clock and Bokar, and Ann Page, what were the older store brands of A&P?
(Update on story, 2015. They still appear to be sold on Amazon, even though the stores are going through reorganization.)