Pfizer's Wyeth purchase includes remnants of the old A.H. Robins company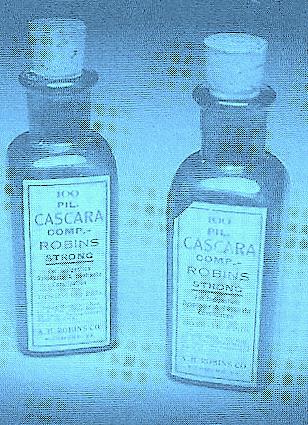 RICHMOND – The merger between Wyeth and Pfizer got us thinking about the legacy of the Albert Hartley Robins company, better known as A.H. Robins. While the name A.H. Robins is gone, the Robins influence shows in the highly profitable brands that are within the Wyeth pharmaceutical company, namely Dimetapp, Chap Stick and Robitussin.
So we pulled out An Angel on My Shoulder, the 1995 biography of E. Claiborne Robins by Juliet E. Shield, his grand-daugher. Robins was the man who made the Richmond-based company grow. In it, he details how he grew the company into a pharmaceutical giant. Early on, they called themselves not a pharmaceutical company but a manufacturing chemist.
The company, founded in 1896, grew with the idea that it would try to find effective cures with quality ingredients. Its roots were from A. H. Robins c. 1866 pharmacy. It was a time of snake oil, when medicines like asafetida were popular; asafetida was a so-called "fetid gum resin" that was sold to prevent disease and children wore bottles of it around their necks to prevent illness.
Little Grey Pills
An early product at Robins was Robins Cascara Compound, which was made by Albert Hartley Robins himself in the back of his Richmond pharmacy as a cure for indigestion. Smith Kline also made products for Robins, including Bironex.
Like so many others in this time, company was terribly nimble and innovative, even though it had no capital and few resources. In addition, it was located outside the giant New York/New Jersey pharmaceutical hub.
The folks at Pfizer, who seem to need a few ideas, should take a look at this book about E. Claiborne Robins. If they are too lazy to hunt it up, we have presented a few ideas from E. Claiborne Robins here.
Sub out production and sell, sell. Early on, he outsourced production, including getting a Merck predecessor company to make Robins' Cascara pills. This wasn't because of a silly management theory about whether they should or shouldn't outsource because of a philosophy. It was whether it worked at that moment.
One leading doctor can make you or break you: A Kansas City physician, a Dr. Krawl, helped build Robins as a company after World War II as he was one of the first to heavily prescribe Donnatal, a versatile drug for nerves and gastro and spastic disorders. Donnatal, introduced in 1934, is now sold by PBM Pharmaceuticals of Gordonsville, Virginia.
Hire researchers as soon as you have extra profits: A key to the company's growth was research; as soon as it made extra money, it hired great physicians and pharmacists, and set them to work finding new drugs. Pfizer seems to be getting rid of research; how that pays off I am not sure. It sounds more like a "run-out-the clock" theory.
Success is not always about research. Robitussin, introduced in 1949, was the hit product for Robins, and still produces millions in profits for Wyeth. But it was not discovered in a lab, but instead was found in a scientific journal, for all to see. Robins just figured out how to market it.
Repetition, bang, bang, bang. Sales is repetition. "The secret was we were able to just pound them. We didn't have that much. We didn't have 500 products to work, and we could just really concentrate on them. The old repetition, just bang, bang, bang. I think that was one of the secrets."
Robins never sold at sponsored dinners. They just would thank doctors, over and over again.
Salesmen are made, not recruited. "We were reputed to have the best sales force in the entire pharmaceutical industry….I believe that maybe we picked some ordinary salesmen and made them into better ones."
Wins might be losses. What drove Robins into bankruptcy was the Dalkon Shield, which was invented by a physician at Johns Hopkins named Dr. Hugh Davis. Robins and Upjohn got into a bidding war over the patent, and Robins won. Then Robins lost.
Sell regulated products AND consumer products. Pfizer made a horrible mistake by selling off its consumer products and now has to get some back by buying Wyeth's. Companies need to have both regulated and unregulated products. Not to mention the obvious fact that some prescription products become over the counter, ensuring quality distribution and relationships with grocery and drugstore chains is helped by volume. If you don't have over the counter, you become dependent on profits from hit prescription drugs, which can disappear when the drugs go generic.
Below is the list of the A.H. Robins product names before their Chapter 11 filing due to the Dalkon Shield. We divided them into over-the-counter and prescription, though some might be in the wrong category, so we hope if any chemists or folks can help us out, please leave a comment at the end of the story:
Over the counter
Adabee vitamins
Albee B Complex vitamins
Campetrodin antiseptic dressing
Caron Perfumes
Chap Stick, actually purchased and moved from Lynchburg's Miller-Morton company
Cough Calmers
Dimacol
Dimetane antihistamine
Dimetapp antihistamine and decongestant
Donna Extentabs belladonna Alkaloids with extended action
Donnagel antidiarrheal, made with belladonna
Donnagesic/Donnatal plus an analgesic
Donnalate, an antacid and sedative
Donnazyme, a digestant
Dopram
Entozyme, a digestant
H-P-V capsule vitamins, formerly Hy-Po-Vita
Lip Quencher cosmetics (these were the ones Lynda Carter advertised
Lip Soother
Lip Treat lip gloss
Robalate antacid
Robins Cascara Compound, a "mild and strong" laxative
Robitussin cough syrup was introduced in 1949; some of it originally had codeine
Sergeant's flea and tick collars and pet care
Silain antacid
Uralithic salt, an antiseptic
Viokase, a digestive
Z-bec, Vitamins with zinc
Prescription Robins Drugs
Ambar methamphetamine with phenobarbital
Arthralgen antirheumatic analgesic
Bironex hematinic
Dalkon Sheild
Dopram, a respiratory stimulant
Exna, a diuretic
Mephate, a skeletal muscle relaxant and CNS Sedative
Micro K potassium chloride
Mitrolan, a laxative and anti-diarrheal of calcium polycarbophil
Pabalate, an antirheumatic
Phenaphen, an analgesic and sedative, formerly Phenacetin with Phenobarbital, changed to acetaminophen, and some preparations had codeine
Pondimin, an anorectic of fenfluramine hydrochloride
Quinidex, a long acting form of quinidine sulfate
Reglan, a gastric emptying antiemetic
Robamox, Robicillin, Robimycin, Robitet antibiotics
Robinul, an anticholinergic
Sedobarb, a sedative and hypnotic, phenobarbital with pentobarbitol
Tenex, an anti-hypertensive of guanfacine hydrochloride
Theorate, a diuretic stimulant