There is an old Sesame Street song called "L is Such Pretty Letter." It is either sung by Grover or Oscar the Grouch. One of the lines is:
L, Linoleum, Listen to Me. 'Cause "L" is such a pretty letter.."
The song came back to us when reading about the Congoleum bankruptcy case, which has not been settled. Congoleum, the original maker of linoleum, has been out of mind for years. And then, the old song started playing. And we thought dang, this great brand has been in Chapter 11 since 2003.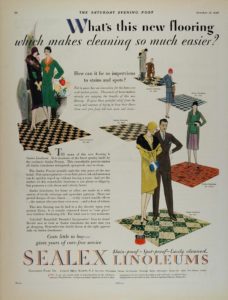 Yesterday, a judge held up the settlement of the Congoleum bankruptcy over lawyers fees for asbestos claims. Three cheers for Judge Kathryn Ferguson for stalling the bankruptcy, saying that the $2 million to trial lawyers Joe Rice and Perry Weitz was not explained, and that all asbestos claimants weren't treated equally. "The debtors offer no explanation for this munificence," said Ferguson.
That could be the statement of the year. Other judges and SEC folk could use that line.
But that's not the point. The value is in the Congoleum brand name, which is totally out of the public mind these days. In a time when people cannot afford to move, and consumers need a cheap and quick picker upper for the kitchen floor, Congoleum has potential.
Congoleum, based in Mercerville, New Jersey, was founded in 1886. It still makes a wide variety of floor coverings. Most folks think of Pennsylvania-based Armstrong first when they think of decorative flooring (it was founded in 1860), but it had roots in cork. Both companies pioneered all sorts of flooring, but Armstrong has been better known in recent decades. Even if you wanted real linoleum, you wouldn't think of Congoleum. If a hipster wanted to be green to outfit a period house, they would probably not choose a Congoleum product but would instead choose Marmoleum, which advertises itself as being a type of linoleum and all made with natural materials.
Perhaps today, with environmental consciousness, this old idea of linoleum might have some market potential? After all, you can see early versions of painted floorcloths, even in Colonial Williamsburg.
Above, an ad from the vintage paper seller on Ebay, Period Paper. It shows a Congoleum Nairn ad from early in the 2oth century.
The website Retro Renovation has all manner of ideas for using old style products.