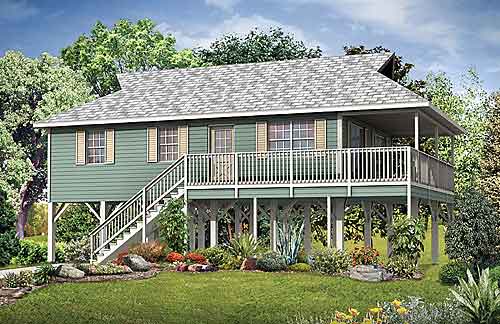 TAMPA – I always wanted the Islander. Up on stilts, it had two bedrooms, a big living area and a kitchen that backed up to the bathroom, to save on plumbing.
The islander was cheap; you could buy it unfinished, and finish out the interior.
As Levittowns were to the North, Jim Walter was to the South. You could call a Jim Walter a trailer, but that wouldn't be right. Jim Walter, the brand, was a commonly used synonym for a cheap house built in the South, and we are sure that the term will live on for awhile. A Jim Walter was really the close kissing cousin to a Shotgun Shack.
You could use the term Jim Walter in many ways:
"Nice house, but it still looks like a Jim Walter."
"He kicked the door in, looking for his girlfriend. He knew exactly where the bedroom was, because he had a Jim Walter model just like it."
"The Fensters found a great piece of property on the Key. When they put that Jim Walter house on the lot, I was worried but it really looks O.K"
Jim Walter Homes was founded in 1946 when America needed to house millions of GI's. Said Walter Industries Chairman Michael T. Tokarz in a press release on the closure:
"Jim Walter Homes began as World War II ended and soldiers came home to pursue the American Dream. Regrettably, it ends at a time when the fundamentals of the homebuilding industry have deteriorated in ways never seen before."
A bit of history: Tampa entrepreneur Jim Walter founded Jim Walter Homes in November 1946, when he used $395 in savings to buy and sell his first "shell" home, for a profit of $300. As a result of the success of Jim Walter Homes, Jim Walter was able to build a Fortune 500 conglomerate with businesses as diverse as mortgage financing, coal mining and ductile iron pipe manufacturing.
Over the years, the company built over 350,000 houses. Those houses will survive, perhaps longer than we imagine. And the company, Walter Industries, will live on too.