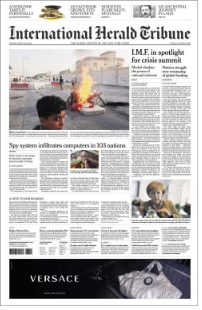 PARIS – The International Herald Tribune has a redesign. Thankfully, the 122-year-old IHT, owned by The New York Times, has been able to keep a separate identity, though seems to be looking more and more like the New York Times, and staffs are now pretty much merged together.
A new online Global Edition at global.nytimes.com merges the IHT with the NYT. Instead of a separate page, IHT.com users are automatically redirected to global.nytimes.com.
The newspaper, and the magazine New York, are the two surviving elements of the New York Herald-Tribune. Read our post Lessons from Newspapers from the Surviving Bits of the NY Herald Tribune.
The newspaper makes use of the Cheltenham font.
Press statements:
Stephen Dunbar-Johnson, publisher of the IHT, said: "Together with The Times, we are creating a powerhouse for high quality global news – it is thanks to closer integration with New York that has made the dynamic new Global Edition online a round-the-clock reality, and it is thanks to this that we have such a clear and sparkling new design for our newspaper.
Martin Gottlieb, editor, global edition said "Redesigning the newspaper and reconfiguring our global online presence at the same time created significant opportunities for us journalistically: Working together with The New York Times, we have been able to look at the overall balance and direction of our coverage afresh. By consolidating Web operations and improving design processes, we are freeing up editorial energies to focus on delivering the accurate reporting, thought-provoking writing and sharp analysis that our international readers need now more than ever."
Our verdict? Handsome, but not very interesting.