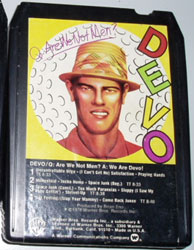 Hey Mark Mothersbaugh. Bring out the Minimoog, and start out the set by flashing a Warner Records logo behind the stage.
Whip it. Step on a crack.
Devo, that red-topped de-evolutionary band from the 1980s New Wave era is back, thanks to Warner Brothers Records, their original label. Devo fans will find it fantastic, and folks like me will find it very amusing. The fun started for Warner in 1978, when Devo released This Is Devo.
It is a good sign that Devo is being resuscitated and repackaged by Warner Brothers Records, their label during the late 1970s and 1980s. This is the right tack for record labels, which have suffered as consumers have reduced their consumption of albums in favor of bootlegs and iTunes singles. It is smart for them to mine and repackage their back lists in order to build an identity. The key is that the backlist needs to be consistent with the label that originally recorded the bands.
Because old backlists have name recognition, they can sometimes have more earning potential than new artists, which do not have a proven audience. In addition, if a group is popular but defunct, the label, which still provides some income for the artist, can serve as a central rallying point for a re-marketing of the back catalog.
Each record company's backlist provides a backbone for a whole slew of repackaging ideas that are far larger than just issuing some CD's in a fancy box. New websites, licensing agreements, marketing tours and merchandise can all be issued under the record company banner.
Record labels have identities. We could write a whole book on it; suffice to say that in recent  years, record companies have not tried to brand their recordings with any consistency. If you could get an act that would sell, you could sell it on your label, no matter if it clashed with the identity of the music label brand. But that was a bad practice, as what was useful about record labels is that they helped listeners to try new artists if you trusted their old ones. Record company lists should have diversity; they would be boring if they didn't. But if they are incoherent, they are of no use to listeners.
In entertainment, we wish companies would pay attention more to their brands. We still find it weird, for instance, that James Bond movies are released by MGM, and not UA. That sort of thing.
Music companies do have identities, mostly from their founders and leaders. It is brand goodwill waiting to be exploited.
Columbia Records takes me from Chicago to James Taylor to Michael Jackson and then back to Barbra Streisand and Bruce Springsteen.
Arista is Clive Davis and Barry Manilow. RSO is Robert Stigwood and the Bee Gees. Asylum (sister to Atlantic and Elektra and Warner) is David Geffen and Linda Ronstadt and Laura Nyro (who was also with Columbia).
The Decca brand (sister to Decca Radar) connotes jazz standards; the Motown brand needs no explanation.
RCA connotes Hall & Oates, Elvis, Bruce Hornsby and John Denver, and too many others to list.
Capitol, founded by Johnny Mercer, takes me to Frank Sinatra and Garth Brooks,The Beatles and dozens of others. Sadly, Capitol is ignoring their Los Angeles legacy and moving to New York. Their current lame website doesn't even list Johnny Mercer.
Elektra, founded by Jac Holzman and Leonard Ripley, has been re-introduced by Atlantic records, headed by co-Presidents Mike Caren and John Janick. (Caren is Executive Vice President of A&R for Atlantic Records, while Janick is founder of Fueled By Ramen.)
Casablanca Records takes me to disco and Donna Summer. How about a Casablanca off-Broadway show and summer tour?
A&M has an appeal starting with Herb Alpert and continuing on to Captain & Tenille, Pablo Cruise and Sting.
Philadelphia International of Gamble and Huff is just plain COOL. Love Train! Wake Up! (Want to know more? Read our History of Soul Music Brands.)
But back to Warner. Warner reminds me of many acts, but most ubiquitous is Fleetwood Mac and Peter, Paul & Mary. Warner is doing some nice things with connecting the present and past of its brands; it recently put a reminiscence up about the death of Mary Travers on its Warner Brothers Records website. The Rhino site put it thusly:
Their 1962 debut album brought folk music of consciousness to the top of the charts and was monumental in launching the fledgling Warner Bros. Records label. Their unprecedented string of gold and platinum albums, hit singles, and Grammy Awards was truly astonishing — at one point in 1963, three of their albums were in the top six of the Billboard albums chart.

In 2004, the trio performed in our WMG offices in support of their final album, In These Times, and both the joy they felt for their music and the responsibility they felt toward their audiences remained as clear as when they began nearly half a century ago.
In the past, it was the case that record labels made money on the records, while groups made money on tours and licensing and such. While there were as many combinations of this as there are musical groups, this model held.