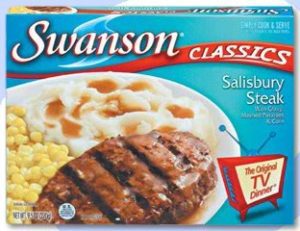 While Banquet (a former RCA subsidiary) and Morton frozen dinners were leaders, Swanson has taken the crown of being the official "retro" TV dinner.
And why not? They invented the name.
At right, the Salisbury Steak Dinner. Much better without the green peppers.
Pinnacle Foods Corp. now owns Swanson, and is keeping the brand around. They have done a solid job with their ownership of other classic American brands, including Duncan Hines, Mrs. Paul's, Armour, Aunt Jemima, Celeste, Log Cabin, Lender's, Vlasic and Van de Kamp's. The company has collected the nation's most famous brands as refuse from other foods companies, and remade and revitalized them.
The history of the TV dinner on Wikipedia gives the antecedents to the meals; they are not so much inspired by television as they are inspired by an airline meal, or so they say. I always did like the ones with the apple pie, though the cooked "bread" was never too good.
I do miss so many of the foods that need to be boiled in a bag. Do they still have those? Can I get some Salisbury steak from a bag? Or better to bake it in a plastic tray? Oh the problems people had in the 1970s.
TV Dinner Timeline
In 1944, William L. Maxson's frozen dinners were being served on airplanes. Other prepackaged meals were also marketed before Swanson's TV Dinner.

Later, in 1952, the first frozen dinners on oven-ready aluminum trays were introduced by Quaker States Foods under the One-Eye Eskimo label. Quaker States Foods was joined by other companies including Frigi-Dinner

Swanson adopted the clever advertising name of "TV Dinner," which tapped into the public's excitement around the new device.