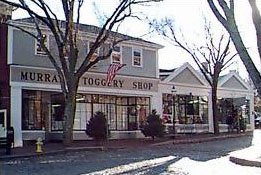 NANTUCKET – A great regional brand can become a national brand if it does one thing really well. Such is the case of Murray's Toggery of Nantucket, profiled in the men's style blog Maxminimus.
Writes the expert:  I remember my first pair-I got them long before I set foot on Nantucket and even longer before the internet. My friend here in Old Town; N.S. came home with them and I quickly called Murray's to order mine. Murray's has been peddling these sailcloth babies, made in Georgia by the way, since the 1940's. I like the incongruence of their manufacture in an inelegant rural Georgia plant and the final destination being elegant-preppy-casual-salty New England.

Maxminimus
Maxminimus also details the rules of Nantucket Reds, thereby also establishing how place is related to brand value. Part of the allure of a brand comes from where it is made and where it is purchased. How it is purchased is important too; there is not a correct way for all, but instead each brand has its own methods created by the founder.
There are so many of these clothing brands; Eljo's in Charlottesville has the factor, as does J. Press, as do Birdwell's Beach Britches.
A great brand is about a great product, sensible pricing, fairness, quality, love, passion, good timing and that certain factor.