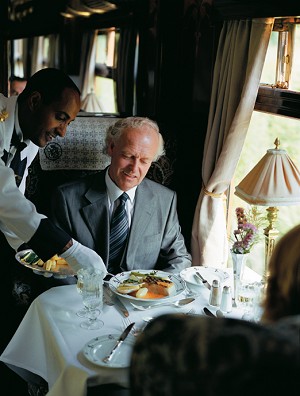 LONDON – It's like 1925, a Merchant and Ivory movie.
On September 10, October 29, and November 14, Orient-Express will be offering "The Dinner" on The British Pullman train departing from Victoria Station in London. The cars are original, and enable travelers to take an Orient-Express train journey that's short and less expensive than overnight.
The press release description is a bit over-the-top, but we guess the whole thing is, so here goes:
From the first glass of chilled champagne when boarding the train to the last crumb of petits fours, no detail is overlooked.  Meals, accompanied by fine wines selected by the sommelier, are prepared using only the finest ingredients and might include mouthwatering selections such as Organic Welsh Salt Marsh Lamb with a Pomegranate Jus and Smoked Devonshire Caramelized Apple with Truffled Welsh Rarebit.  Vegetarian selections are available, such as an Artichoke and Palm Heart StrudelZucchini Stuffed Roasted Bell Pepper served with a Tomato and CaperJus.  The Orange and Chocolate Tasting Plate will satisfy even the most die-hard chocoholic.  
The journey departs from London's Victoria at 7:30pm and returns at 11pm and is limited to 90 guests. Prices start at US$640.
For details, see www.orient-express.com.