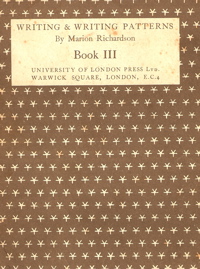 Here is a cover from a Marion Richardson handwriting book that came from The Everett School in Virginia Beach, Virginia. (Everett was the predecessor to Cape Henry Collegiate School.) Everett used the best British teaching methods, including Richardson's series, up until the 1970s.
We saved it because we are admirers of Marion Richardson's handwriting style, which is that old early 20th century script taught in British public schools. We think the American cursive that I learned in the 1970s from Mrs. Guion, with all those curly q's and such, is not my favorite and it ruined handwriting for generations of Americans. Thankfully, now the curriculum is better, and less ornery.
We put the cover out there to show how to properly brand a book. Here, this design is from the University of London Press.
We miss simple type and simple presentation, particularly in school books. Today, school books are over-designed and filled with unattractive type.
Editor's Note: BrandlandUSA is tracking interest in the series and efforts to revive the script around the world.