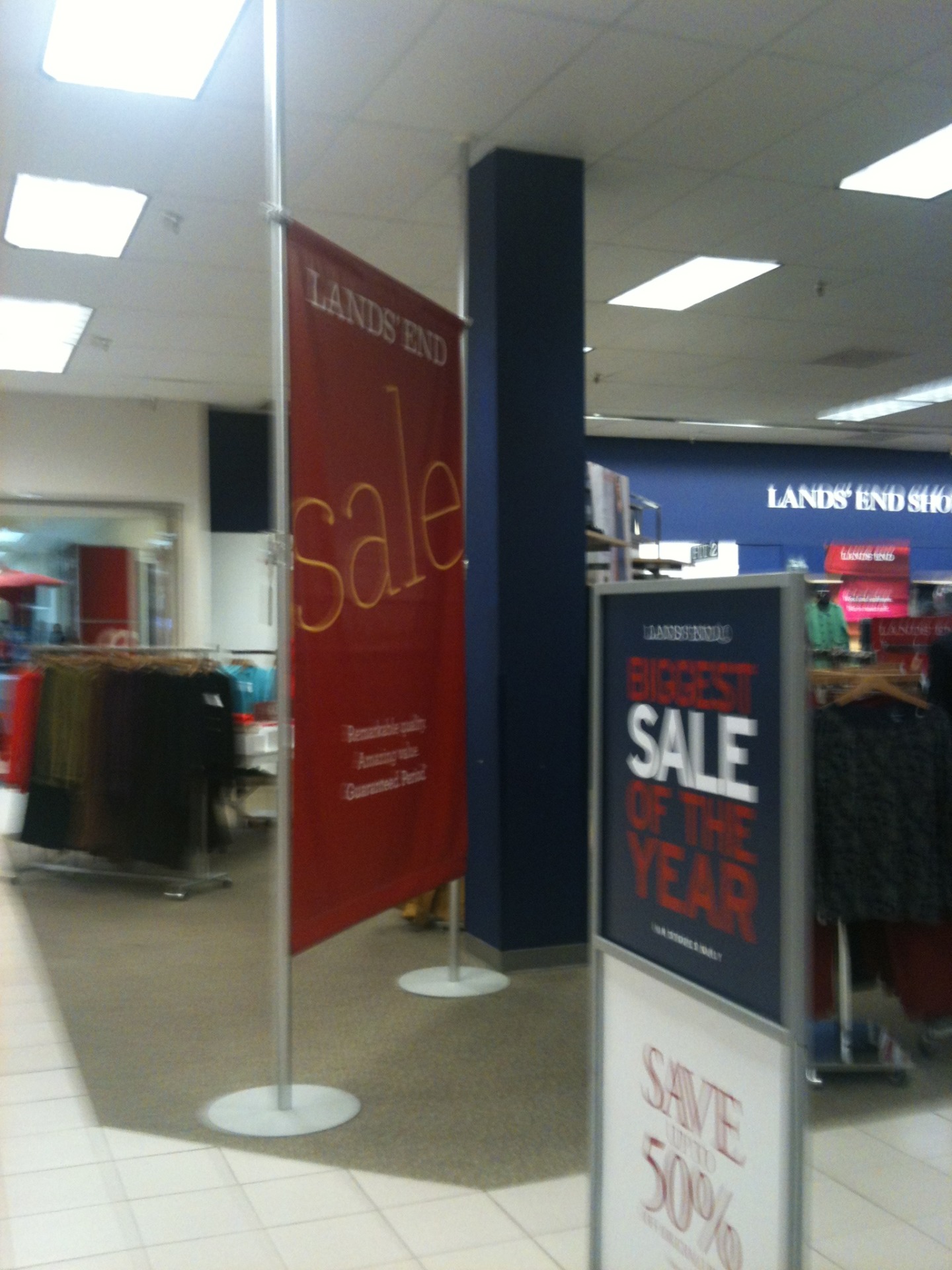 HOFFMAN ESTATES, Illinois – Sears Holdings (SHLD) announces earnings today; turns out their second-quarter loss is $94 million, or 79 cents a share, with revenue falling to $10.55 billion from $11.76 billion.
I could have guessed it going into their Westfield Sarasota Square store. On our visit, the clerks were friendly. The store maintenance and upkeep was good. The promotional banners were sharp, and well-designed. It felt upbeat. New brands like Cannon were livening up the approach, and the revivals of old Sears private brands like Toughskins were well displayed.
But something was missing. Store shelves, by design, are slightly empty. Merchandise is thin. The perfume and cologne section had probably one or two of each brand of cologne; the space behind the first row was empty. It had the feel of a bit of a facade, and that made me pause. School is only two weeks away; eeek. It should have been busier than that on a Saturday. It got me thinking; what if buying patterns have changed permanently? Not only do Americans not want so much stuff, but even if we did, we won't be able to afford it. That means retailers like Sears have to revisit how they survived that certain period in the 1930s. Certainly clever advertising is important, and store merchandising is critical, but to survive, Sears has to adapt.
Frankly, Sears, and the rest of American retail, has too much square footage for demand. The reality? We aren't buying as much. The party is over, and we have plenty of leftovers, for a good long time. While the economy has to recover, spending patterns are shifting.
Sears is going to have to reinvent itself. Yet again. Just as it has done dozens of times before. What are options?
Franchised departments: At the Sarasota store, there is a leased garden shop that took over the outdoor garden store. As curious as I am about retail, I have not gone in. It needs some oomph. Perhaps Sears could develop a live garden and florist brand, and sell a franchise in each store. Sears gets franchise fees and a percentage; the local struggling florist gets a place to call home with a brand and foot traffic. There could be more franchised departments inside stores. This could add to the profits, merchandise mix and excitement of a Sears store, while not adding to overhead. Remember: Sears has excellent experience with its rural catalog operators; its stores help to expand the Sears brand while bringing in incremental revenue.
A Kenmore School? Etsy? The other week, my wife saw a quilt she liked in a catalog from Pottery Barn. Not wanting to spend on it, she pulled out her Sears Kenmore sewing machine, drove over to JoAnn Fabrics (NYSE: JAS), and got started. Here's the problem for Sears; they sold her a machine (good) but at a very modest, low-margin price. They then didn't sell her anything else. What if Sears had classes at the store, hosting sewing groups, and sold materials, etc. This also goes to other departments; hardware could do workshops on woodworking and garden shops might host the Extension Agent. They do this sort of thing intermittently; what if they rolled it out as an official brand, in partnership with or by purchasing Etsy, that hip crafts-selling website. The goal? Sears as the hub of doing not just buying.
Where's Ted Williams? The Ted Williams sporting goods brand was fantastic; over the years Sears lost their market in small boating and sports. They need to get back to this market; in a recession, people have time. In Sarasota, people are fishing. The kids are organizing soccer games on the beach. They need to re-establish this connection to sports. Perhaps the Land's End brand could be extended to boating? Or the Sears Yachtsman brand revived? And can other retail chains be persuaded to open boutiques in Sears on a rent/percentage basis?
Education: Land's End has an ace-in-the-hole. It's school uniforms. They have relationships with thousands of American schools to sell branded merchandise for uniforms. They need to take this to the next level, and become de-facto school stores. The schools get a small cut, and Land's End gets the traffic.
Grocery: Is a leased food concession focused on value-priced groceries a possibility? Can Sears do like the U.K.'s Marks & Spencer and sell groceries? I am tired of the marked up food courts at malls. And mall workers are feeling the squeeze. These days, the American consumer is doing cinnamon toast at home, not $2.50 Cinnabon.
Mall customers: If your actual customers are down, what do the workers in the malls need? Not only food (see #5) but other services.
Scouting and other non-profits. At one time, Sears was the place where you bought Boy Scout uniforms. As scouting declined, it became less of a great thing. What are the other associations that Sears needs to rekindle to build regular traffic?
Home renovations: Sears lends its brand name to all sorts of things; cabinet refacing? Ick. But they have a crack staff of repair trucks. What other renovations could they brand? Sears was one-time in the home business; you could ship a whole Sears house and have it assembled. Are there variations of this today? Noted architect Andres Duany of Duany Plater Zyberk has just unveiled his inexpensive 770-square-foot Katrina Cottage, basically a really nice looking Southern shotgun shack. Partner with him, not Ty Pennington; he's the Martha Stewart of home and neighborhoods. For the price of a Social Security check, Americans could buy one on credit to put in-laws in the backyard.