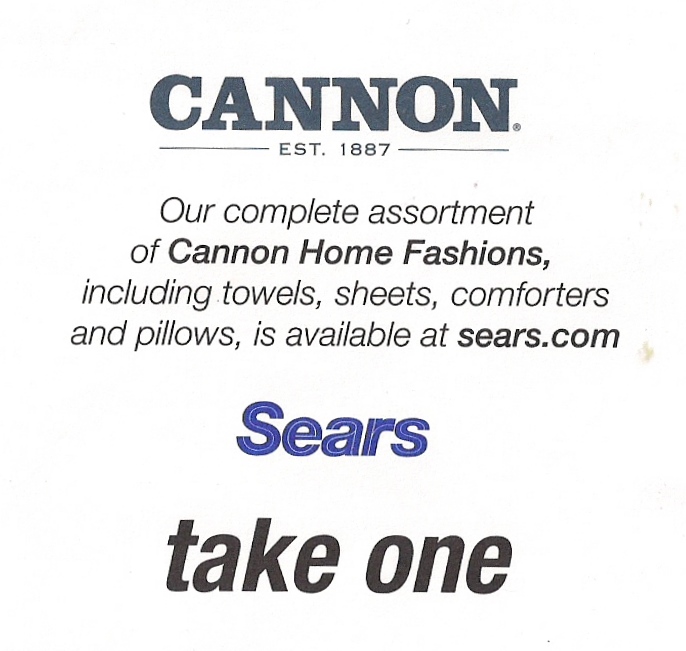 CHICAGO – The recent addition of the storied Cannon brand to Sears, Roebuck (NYSE: SHLD) is further evidence that the chain has a smart brand strategy.
Cannon is now appearing in revamped home decorating sections in Sears, and they are making full use of the power of the brand to make Sears unique. Sears is also not just pushing its Craftsman and Kenmore brands, but even Toughskins are back as a brand of children's clothing.
The store within a store follows the model of Sears' Land's End, where a significant section is branded Cannon. While other linens are sold with the Cannon linens, large signage and handout notepaper like the one above makes sure shoppers know that the brand is one that is closely associated with Sears. This is smart strategy, as Cannon towels and sheets had/have a strong brand appeal that was not tarnished with the bankruptcy.
Cannon had a long history in North Carolina, and its towels and became ubiquitous in American households. Cannon began in 1887 in Kannapolis, N.C., and was known for making some of the best towels in the world. Equally beloved was Fieldcrest of Fieldale, Virginia, a spin-off of the Marshall Field's department store. Fieldcrest is now sold by Target. Cannon was eventually merged with Fieldcrest, which had long since been spun-off from Marshall Field's. The merged company went bankrupt in 2002, only to go bankrupt again. Over 6,000 jobs were lost.
New York based Iconix Brand Group Inc. announced Oct. 3, 2007 that it had purchased Official Pillowtex LLC, the licensing company that owned the towel and sheet brands Cannon, Royal Velvet, Fieldcrest and Charisma as well as St. Mary's and Santa Cruz, for $231 million.