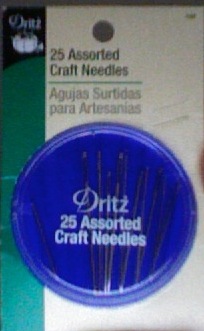 At home, in a sewing kit, I noticed a handy little brand many have forgotten is still around. Dritz. It's part of the great pantheon of sewing brands, some over a century old. Brands like Singer, The McCall Pattern Company, Coats & Clark and Talon Zipper. And of course there is Sears Kenmore; read about our proposal for Sears and its home-oriented lines.
Dritz (with its strawberry pin-cushion logo) is best-known for its needles, and sells them in a handy twist package. In a time when young consumers are making things for Etsy.com, and older consumers have more free time and less money, brands like Dritz will have a good future if managed carefully. These brands should also think about how they present themselves to consumers; and by the way, what ever happened to the word "notions.?"
Today, sewing is about doing special things for people; hand done garments are the ultimate in luxury. So a company's focus on quality in presentation and manufacture will help make the experience of these brands better. Dritz is now owned by the German company William Prym GmbH & Co. KG, one of, if not the oldest, companies in Germany, with an astounding 12-generation legacy in Stolberg, Germany.
A bit about the history from their site.
During the 1920's, John Dritz & Sons made beaded handbags. They also developed sewing notions and gadgets, such as seam rippers, zippers and electric scissors. In 1959, John Dritz & Sons moved to Spartanburg, South Carolina.
In 1969, the Dritz family sold their company to Scovill of Connecticut.
In 1980, Scovill sold the Dritz operations to Risdon of Waterbury, Connecticut.
In 1985, the Dritz operations in Spartanburg and New Bedford were purchased by new owners who formed the Dritz Corporation.
In 1988, Prym acquired the Dritz Corporation and formed the Prym Consumer USA Inc. Corporation.
Prym USA has done the correct things with the various brands in their family. First, they have not tried to eliminate the historic brands and brand everything as one brand. Instead the company has many brands in different sewing niches, brands that include Project Runway, Drylon, LoRan, Fons & Porter, Prym, Collins, St. Jane, Kimberly Poloson and of course Dritz.
Especially smart is Prym's Project Runway sub-brand strategy. Many companies would drop the old brand, like Dritz, calling it fuddy-duddy, and re-brand everything Project Runway. Instead, they used their experience in sewing to lend credibility to the new brand, and a bit of excitement to the old. Under no circumstances should they eliminate the sub brands.
This bad approach is what we call the "Rosie Approach." I am now inventing the phrase the "Rosie Approach" to branding. What does the Rosie approach mean? You take and old brand, a wonderful magazine brand like McCall's, and dump the old brand, re-branding with something more edgy like Rosie magazine. The older McCall's readers are not pleased, and the Rosie fans aren't amused either. Neither is happy, and it all fails. The better response would have been to launch a separate Rosie magazine as a spin off of McCall's, leveraging that magazine with a bagged spin-off. They then both do their separate things.
But back on the subject. Find out more at Prym Consumer USA Inc.