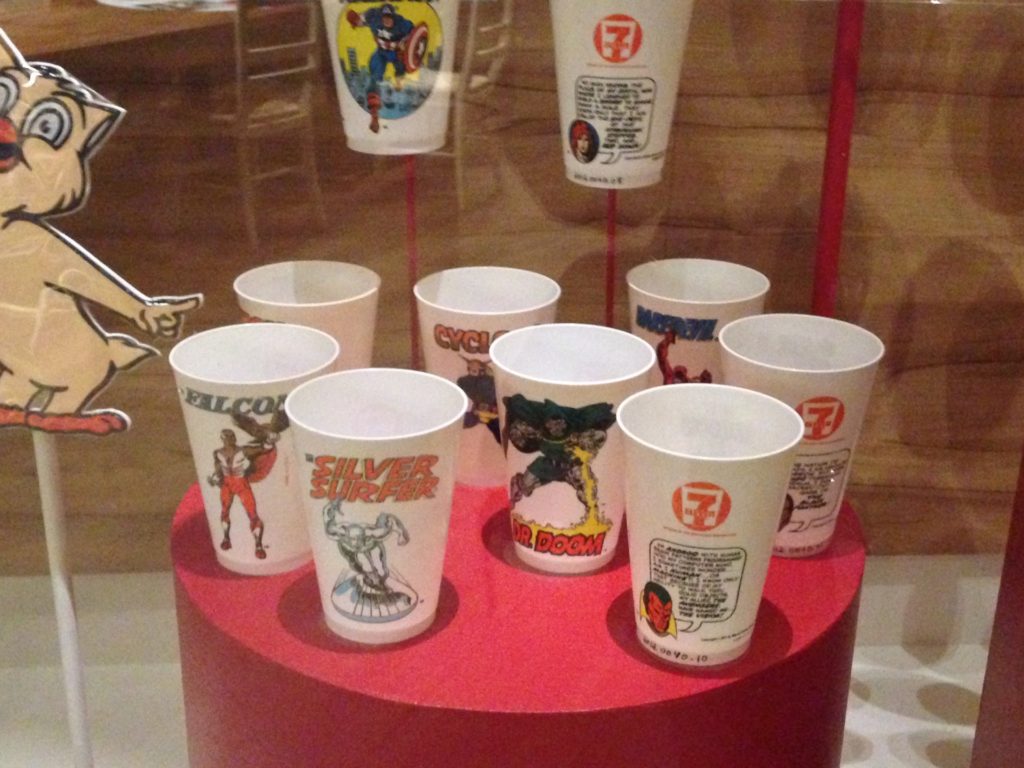 It's summer. Time to think about great brands of frozen drinks. The history of the frozen ice drink goes back to Roman times or before. But the ubiquitous frozen drink, on every corner, dates from the mid 1960s, and the invention of the ICEE machine.
While the ICEE was the first machine, it was the Slurpee that made the drinks a part of American life. The trade word Slurpee, which was registered as a trademark by the U.S. Patent and Trademark office in May 23, 1967, had its first use on July 2, 1966. Since 2002, however, 7-Eleven has given away free Slurpees on July 11, which is the anniversary date for the company. The free Slurpee practice ended, temporarily, last summer, and it is hoped by all that it will be back.
These frozen drinks are a big profit center for all convenience stores, with margins above 50 percent. Starbucks has also grown its cold coffee sales; they account for about $300 million in yearly sales, according to Marketwatch. And there are multiple franchised smoothie stores, selling what is basically a frozen drink created with fresh fruit in a Waring-type blender.
The frozen drink is not new. From earliest history, sweet drinks were made from snow, and shaved ice. Cities near mountains also had access to snow and ice during warmer months. The early U.S. colonies cut ice during the winter to keep in ice houses, and make ice cream. But in most parts of the world, ice was only for the wealthy. Exporter Boston "Ice King" Frederick Tudor even sold New England ice to Calcutta. With the invention of the frozen ice machine by John Gorrie, and subsequent commercially produced ice making machines, frozen drinks became a staple of summers across the world.
Convenience store chains almost all sell a version of the frozen drink, however, not all give their frozen drinks a brand. For instance, Wawa just calls its drinks refreshers and smoothies, but Circle K calls it a Froster. RaceTrac gives its notable soft serve ice cream bar a name, Swirl, but does not have a name for its frozen drink.
At 7-Eleven, the Slurpee is sold in multiple flavors, but the drinks were originally sold in two flavors, a generic cola flavor, and a secondary flavor, something basic like cherry or blueberry.
Below is a highly arbitrary list of top frozen drink brands. We invite additions in comments below.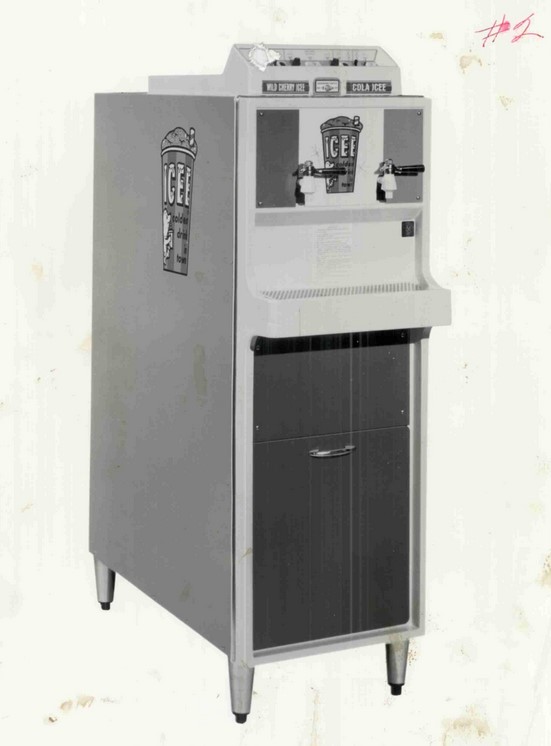 Slurpee: King of all frozen drinks brands, and unique to 7-Eleven around the world. The brand was actually not the first iced drink brand; the 7-Eleven Southland Company company merely purchased Icee machines when it launched the Slurpee in 1965. Since then, the drink has become a signature for the chain, and spawned spinoff products that include the spoon straw (a plastic version of the quintessentially southern sterling silver iced tea straw), a Brain Freeze straw, and the 1970s favorite Slurpee Surprise. The spoon straw was the 1968 invention of MIT educated Arthur Aykanian, and sold by Winkler Flexible Products Inc. of Los Angeles. The spoon straw is in the MOMA design collection. In 1927, 7-Eleven was originally called the Southland Ice Dock in Dallas, Texas, began selling milk, bread and ice. The Slurpee brand is ever expanding; in January 7-Eleven won a trademark for a Slurpee surgical mask.
Icee: The Icee (written ICEE) was the original frozen drink, invented by Omar S. Knedlik, a Barnes, Kansas native. After World War II, Knedlik moved to Coffeyville, Kansas, where he purchased a Dairy Queen. The brand is owned by and a division of the publicly traded J & J Snack Foods. The actual name ICEE, for the machine, was trademarked by the John Mitchell Company of Dallas in 1966. An original Icee machine is seen here.
Froster: This brand, sold by Mac's in Canada, has a sub-brand, Parafreezium. It is also the Circle K brand in the U.S.
Slush Puppie: This brand, started in 1970 by Will Radcliffe, claims to have gone beyond cherry, grape and lime to wacky flavors. It is actually written SLUSH PUPPiE. In January 2001, London-based Cadbury Schweppes plc purchased the company. In 2006, J&J Snack Foods, owner of Icee, acquired the brand.
Jolly Rancher: A brand extension of the candy made by Portland, Oregon based YoCream. How about we get a Life Savers brand of frozen carbonated beverages?
Freezeosaurus: Made By Hartley's Brand, or H & H Products, this Orlando company sells all manner of syrups to retailers.
Parrot Ice: Greg Johnson's vertically integrated company makes its own dispensers, flavors and such and is now part of J&J.
Slushee. This Irish brand expanded into the U.S. and Great Britain. There are also variations on this, and the term is slightly generized as there are multiple brands of slush drinks, with multiple spellings.
Speedy Freeze. Not a bad name for the Speedway frozen drink.
Alligator Ice. A family owned slush brand in St. Louis.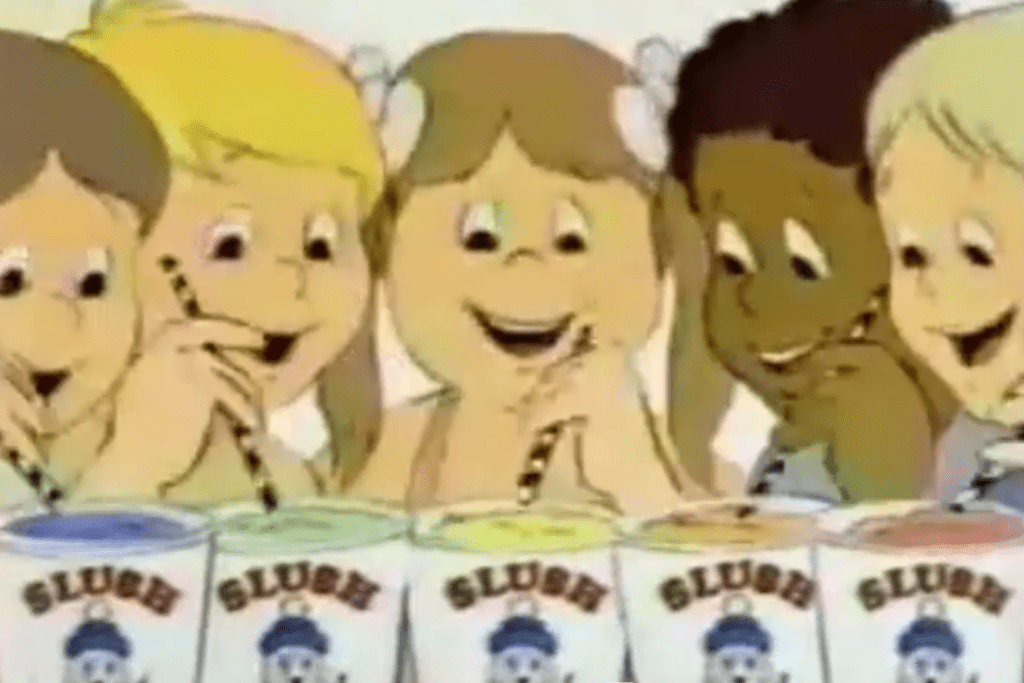 Below, the earliest known 7-Eleven advertisement from their YouTube channel.