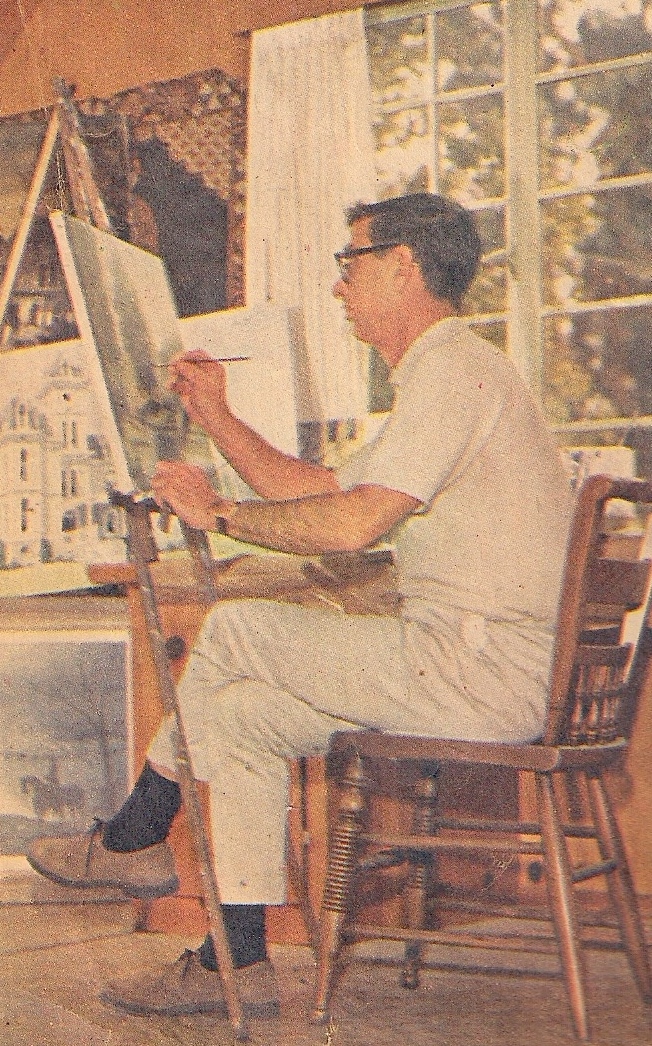 One of the unsung 20th century creators is Richard Whorf (1906-1966), the sometime actor who was director of the Beverly Hillbillies. Whorf was also a dancer, a designer, a producer and a writer. Whorf has a whole world view that is well to appreciate; namely traditional with a warped view of the world.
Whorf showed up in an old TV rotogravure section story on his artwork; he is pictured here at work on one of his old town America paintings. Entitled At Ease at His Easel, it says that the first time he saw Los Angeles he was playing Shakespeare.
Whorf was also a leader in studio work, and directed the Beverly Hillbillies episode where Mayflower descendant Priscilla Smith-Standish (Rosemary DeCamp) shows that the Clampetts are of better and earlier blood than the Drysdales because they are descended from English who landed in Virginia at Jamestown.
Whorf sold his first painting at age 15 for US $100. He had the style of Grant Wood or Norman Rockwell. Apparently, he had a one man show in 1963 with his designs.
"Who says," he asked a reporter in 1963, "that a man has to do one thing?"
Whorf died in Santa Monica in 1966; we would love to know who has his paintings, and what they looked like. A question for readers. Is he related to the art director Peter Whorf, who is responsible for the A&M Herb Alpert record Whipped Cream and Other Delights.
Do any others know about his work?