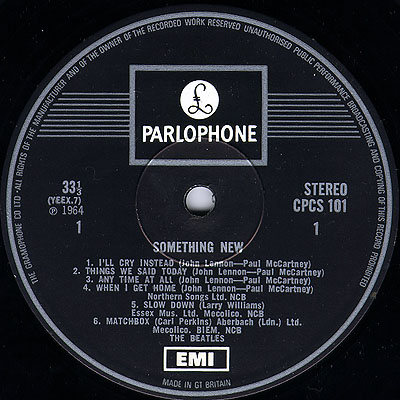 LONDON – BBC is reporting that Sir Paul hopes that EMI's famed Abbey Road studios might be saved. Apparently, it is for sale for $30 million.
EMI, remembered by some as Electric and Musical Industries, is in bad shape. Owners Terra Firma Capital Partners Ltd. want to break up EMI Group Ltd. to extract some value. The Wall Street Journal reports that Terra Firma's Guy Hands proposed the separation and recapitalization of EMI's two businesses: the ailing recorded-music division, known as EMI Music, and the healthier EMI Music Publishing unit.
Lawsuits! Pension funds drained! What a financial mess in this guy's hand. Terra Firma bought it for around £4.2 billion ($6.6 billion) in 2007. Citibank apparently holds £2.6 billion of debt, but the company is worth billions less than when it was sold. Apparently, one idea under consideration is to split off the music publishing business from the recording business. The question for me is who lends, leveraged, $4 billion, for a record company? Hindsight is too easy.
How a great company with the assets of EMI got so off track is a tragedy. Again, here is an instance where private capital and mismanagement have not only ruined a great British institution and eliminated jobs, but have given capitalism a bad name.
What good are stinking capitalists if they don't know how to make money with assets like Abbey Road Studios and the EMI songbook?
However the financial mess is sorted out, the EMI brand is what is at stake. EMI is one of the great companies, with roots as Emile Berliner's Gramophone Company and the earliest flat records. Not only is the EMI brand an institution, but it owns other recording brands that are great assets, and they include Angel, Blue Note, Capitol, EMI, Manhattan, Parlophone and Virgin. EMI is not just about music. EMI developed the first CT scanner (Sir Godfrey Hounsfield) at EMI Central Research Laboratories. The company also worked on radar during World War II. Perhaps their move away from technology set them up to be just another recording label? Too much focus is never good.
Need to stop writing here, as it's all getting me too ticked off.
Selling off the studios where Edward Elgar recorded "Land of Hope and Glory" and the place where soundtracks of the "Harry Potter" and "Lord of the Rings" films were recorded is a big mistake, and makes the entire EMI recording operation far less interesting. It's like selling off your wedding ring, just before the wedding.
One more point. No one is going to tear down the studios, but what makes them interesting for U.K. visitors is that they are still in use, still in use by their original owner, and they still make great music. That needs to continue.
That means that British economic development and tourism officials also have an interest in this issue, and need to weigh in. A strong EMI means a strong British recording industry.
Sir Paul to the rescue!