Some items from the headlines, and files: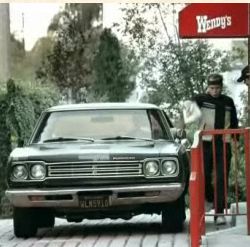 The Plymouth brand has been getting an "Old Fashioned" bit of exposure in the new Bacon & Blue ad for Wendy's. The ad is getting some great airtime, pleasing Mopar fans to no end. It looks to be a 1969 Belvedere in the ad, but so many of the late 1960s Chrysler cars (in fact almost all Chrysler cars) were quite badge engineered and so which mid-sized model it is confuses. Perhaps it was the yellow Fury III sedan that we had growing up? Or the Plymouth Cricket? Or the Plymouth Volare? Or the best reason…I can recall our neighbor, Buddy Gifford, who had Green-Gifford Chrysler Plymouth in Norfolk. A great man, who drove great cars, including a rather stylin' green Imperial, and New Yorker.
The Palo Alto-based web dev company Adnectar has developed a St. Patrick's Day Facebook App for the Irish whiskey Jameson. It allows folks to vote for their favorite version of the drink. Jameson is a unit of Pernod Ricard USA, and the largest subsidiary of Paris, France-based Pernod Ricard SA. Pernod brands include The Glenlivet Single Malt Scotch Whisky, Chivas Regal Scotch Whisky, Seagram's Extra Dry Gin, Beefeater Gin, Martell Cognac, Malibu, Kahlúa Liqueur, Hiram Walker Liqueurs, Pernod and Ricard; such superior wines as Jacob's Creek and Brancott Estate; and champagnes and sparkling wines as Perrier-Jouët Champagne, G.H. Mumm Champagne and Mumm Napa wines.
EMI lost a suit brought by Pink Floyd is astounding. The suit said that the band had contracted with EMI to only sell albums, not singles. To any fool who knows anything about music, Pink Floyd's appeal is its albums. A question for its owners, Terra Firma, and the banks like Citibank, that lent it money. Putting aside the obvious merits of Pink Floyd's case, the question is thus. Why can't you keep Pink Floyd happy?