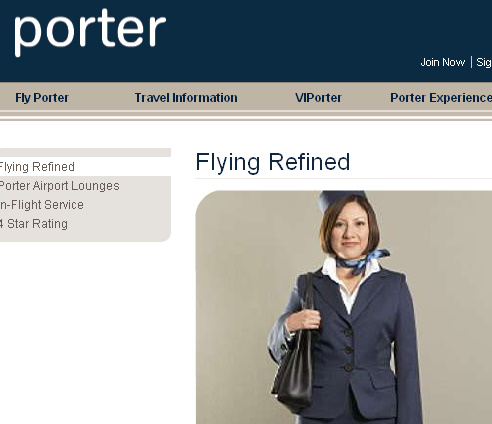 TORONTO – There's a niche airline that gives free drinks, flies planes with propellers and only goes on a few select routes. Best yet, it puts its flight attendants in pillbox hats.
It's Porter Airlines of Canada. Kind of like a regional Virgin Atlantic, but it has a serious, more business-feeling approach. Says the airline on their website:
Each team member has been specially selected and trained to put travellers first with impeccable and innovative service.  (Their uniforms are pretty sharp too!)
A bit more of the features:
The fly with Bombardier Q400s, which are turboprops that feel more like jets, but still actually LOOK like an airplane.
They have a snazzy in flight magazine called Re: Porter. Kind of looks like Wallpaper, but small.
They run from their own private plane FBO in Toronto, and have a free shuttle bus into the old hotels downtown.
The free drinks mean free beer. Good idea.
Destinations include Boston, Chicago, Halifax, Moncton, Montréal, Mt Tremblant, Myrtle Beach, New York, Ottawa, Québec City, St. John's, NL, Sudbury, Thunder Bay, Toronto
Airlines like Delta would do well to see how this niche approach could be used with their ignored Northwest brand in order to keep rights to the name.
Find out more at www.flyporter.com