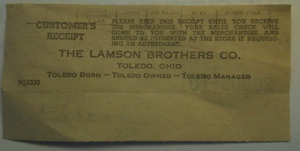 TOLEDO – In a box of fabric, we found a little label for a dress store called Lamson Brothers.
Every town used to have a Lamson Brothers, a stylish local department store that not only sold national labels, but stitched a few of its own labels into wholesale garments to give turn the retail shop into a real local brand.
One of those stores was Lamson's. The shipping receipt seen here had another description.
Toledo Born. Toledo Owned. Toledo Managed.
The label dates from probably the 1960s or so. No matter. It's the idea, and its still relevant. If you are a locally owned store, you have the advantage these days. But you have to use it. Another good idea to think about with brands. Lamson was a family name. Family names make great names for retail stores.
We were curious about the history of the company.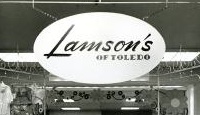 On the OhioPix site, there is a great photo of the opening of a women's section. Pictured are Jules Lamson Vinnedge, Ruth Kowalski, and W.J. Bielefeldt, all in a photo taken in April-May 1969.
The story ends sadly. President of a retail department store, Lamson Brothers, Later known as Lamson's of Toledo. Mr. Vinnedge, according to the website Find a grave, Vinnedge was fatally shot in a hold up outside the Maumee, Ohio branch store, on May 3, 1977. The site says that he married his second wife, Susan, in 1972, and she had the happiest five years of her life.