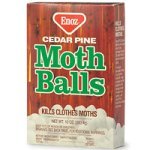 St. LOUIS – An enduring bug killing name is Enoz, known for fly swatters and moth balls. Founded in 1946, the products are still made in the United States. To many Americans, the smell of Enoz is the smell of winter's end and winter's arrival, when woolens come out of cedar chests and moth ball laced containers.
They are often called moth balls, but are also called "moth flakes" or "moth ice."
The Enoz brand was first trademarked in 1914. It was originally made by the Enoz Chemical company of Chicago; it shows up in newspapers after World War II. In 1954, the brand was sold to Edison Chemical. By the 1970s, it was part of St. Louis-based Irwin Willert, and today Enoz is still owned by the company.
Owner Willert Home Products was established in 1946 by August W. Willert Jr. and George C. Irwin. Their first factory was located in East St. Louis, Ill, occupying 6,000 square feet with nine employees. Today, they have 250 employees.
The corporate office is still in St. Louis with facilities in Henderson, NV and Kenova, WV.