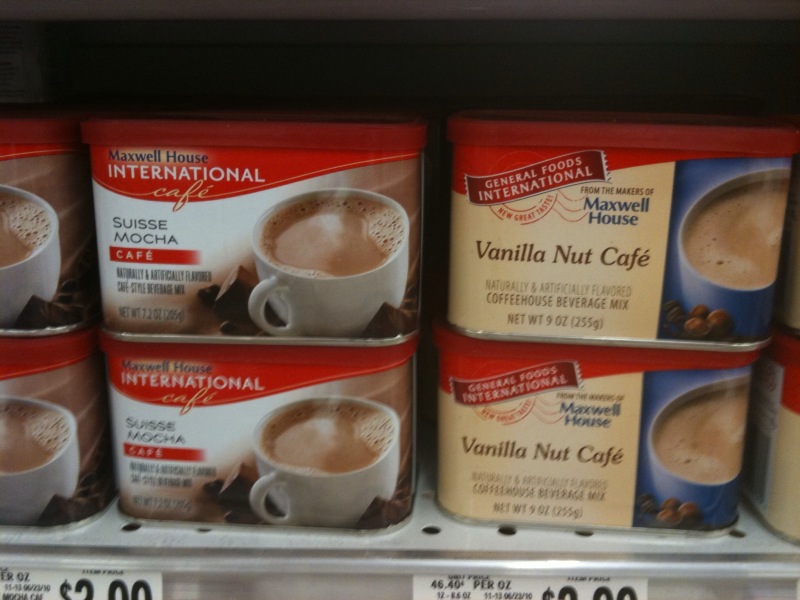 General Foods International Coffees, the last stand of the General Foods brand, might be on its way out. It appears that the coffee's maker, Kraft, is testing a new Suisse Mocha under the Maxwell House brand. In the photo here, at right is the older version, General Foods International Coffee that is "from the makers of Maxwell House." At left is what appears to be the new version.
General Foods once sold three coffee brands, Sanka, Maxwell House and General Foods International Coffee. When General Foods merged with Kraft, the company became Kraft General Foods. Eventually, the General Foods was dropped, but the Kraft survived.
Kraft would do well to keep some vestige of General Foods around, though fewer know it than a decade ago. The brand has tremendous goodwill; pity Kraft has not figured a way to take advantage of it.
Part of the problem is that when the General Foods corporate brand disappeared, the small coffee brand lost the promotional value of General Foods. Brands such as Jell-O, Tang, Sanka, Gaines, Maxwell House, Post, Kool-Aid and the like were all advertised as sub brands of General Foods. Whenever the product was advertised, General Foods was mentioned. That halo is gone.