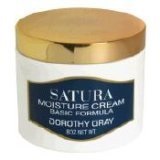 A note from one of our BrandlandUSA readers. The eye cream Satura, the last remaining bit of the once leading Dorothy Gray cosmetics company, has apparently returned to the shelves. However, some fans of the cream say the new version is not as good as the old one.
Here is the comment from BrandlandUSA reader Patricia Sunday:
I am writing to you today because I have been looking for Dorothy Gray Satura Eye Cream for two years or more. I have searched everywhere and am desperate to find the old original formula. I finally found the product online and was so excited to find it. I ordered 12 jars of it, thinking it was the old original formula. When it arrived, I was so disappointed. The jar looks exactly the same but the contents are different. The cream is not the same at all. What has happened to the old formula? I have three other ladies standing by ready to purchase this product. We are all heart sick about this. We thought we had finally found the great eye cream we all used in the past. Please help!
Love for some other readers to help us out with this, or maybe the company can post a comment to help her out? Perhaps there is a mix up, literally or figuratively?
Interested in Dorothy Gray history? The company was founded in 1916. Read our post on the company's history at Remembering Dorothy Gray.