In the 1970s PBS television series Crockett's Victory Garden, James Underwood Crockett detailed popular bug-killing brands he uses. Today, some are gone and some still around.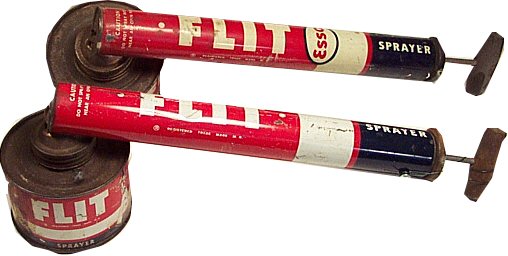 Poison brands are interesting. We still remember some of them like chlordane and DDT, even though they are no longer used.
We have listed the 1970s brands mentioned by Crockett below as well as a few others; brand names are capitalized and chemical names are italicized.
Insecticide brands include:
Thuricide, Dipel and Biotrol: These were all different brand names of the poison bacillus thuringiensis. this was described as save and non-chemical.
Sevin: The poison carbaryl, it is used for Japanese beetles.
diazanon: Sold under many brand names, it has a toxicity of about two weeks and was described as the most potent of insecticides.
Kelthane: A trade name for the low toxicity insecticide difocol.
malathion: Then sold under its generic name. It is still used today, and treats head lice.
Red Arrow and DX: These two brands were combinations of the poisons rotenone and pyrethrum. These two insecticides were sold under brand names Red Arrow and DX. Pyrethrum is a natural insecticide.
Fungicide brands include:
Benlate: The fungicide benemyl, described as the best for fungus. A duPont brand no longer that ended productin in 2001.
Captan 50W and Orthocide 75: Two trade names for captan, which is still used today.
Manzate, Dithane M-22 and Ortho Maneb: All brand names for the fungicide maneb, used for rust disease on bean plants. Manzate is still sold by duPont.
Phaltan: All purpose spray, the trade name for Folpet.
Of famous brands no longer around, Esso had the brand Flit. It was also DDT, about five percent.