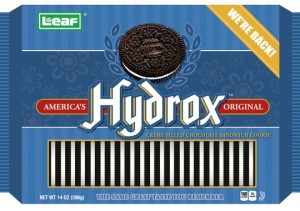 NEWPORT BEACH – Ellia Kassoff, the man behind number of successful brand revivals, is bringing back Hydrox Cookies. The cookies began production again this week.
Hydrox was often perceived as the "other" brand of stuffed cookie, Nabisco's Oreo being more famous most of the 20th century. Hydrox was made by Sunshine Bakery, purchased by Kellogg's, but the company discontinued the brand. In actuality, Hydrox was first.
Kassoff, of Leaf Brands LLC and Strategic Marks LLC, has successfully brought back a number of old candy brands, including Bonkers, Wacky Wafers, Astro Pops and Tart 'n Tiny's as part of his Leaf Brands company. Kassoff has also been attempting to bring back the old department store brands that Macy's dropped years ago, including Robinsons and Filene's.
You can follow the progress on Facebook, including some shots of the production line. The Hydrox effort got a large boost in August when Republican candidate Donald Trump said he was swearing off Oreos because of the move of production to Mexico, where sugar is cheaper.