NEWPORT BEACH, Calif. – The maker of revived Hydrox cookies has filed a complaint against Mondelez International, writing that its retail stockers are pushing Hydrox aside in favor of Oreo.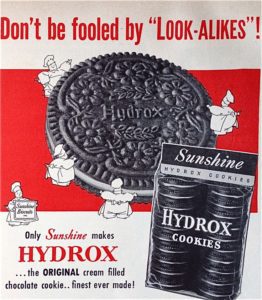 The complaint says that the maker of Oreo cookies has been using its delivery drivers to push aside Hydrox cookies in stores "on a national basis, in-hopes of slowing sales and leading to stores discontinuing Hydrox."
In a complaint, Leaf Brands CEO Ellia Kassoff says that the company is guilty of (1) Unlawful Monopolization, in violation of § 2 of the Sherman Act; (2) Violations of § 43(a) of the Lanham Act; (3) Tortious Interference with contract; (4) Tortious Interference with prospective advantage; (5) Product Defamation; (6) and unjust Enrichment.
Leaf also says that "Category Captains" allow Mondelez, the renamed Kraft, the unique opportunity to pick specifically where Hydrox sits on shelves, and in many cases, away from other sandwich cremes. The gist? Route reps are hiding Hydrox when they arrange shelf space for the dozens of varieties of Oreos, as well as other Nabisco cookies. Another complaint? Aisle promotional signs are placed in front of Hydrox, in order to hide it.
Leaf Brands is the maker of a number of revived brands, including Farts Candy, Astro Pops, tart n' tinys , Wacky Wafers, Bonkers! and David's "Beyond Gourmet" jelly beans. It is a tiny company compared to Mondelez, which is the successor company to RJR Nabisco, the maker of Oreos.
The case is a winner for Leaf Brands whether or not they win anything; every mention of the Hydrox brand as a predecessor to Oreo helps to rebuild the brand's legacy.
Below, their first post on the issue: