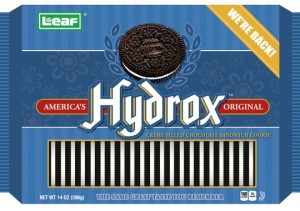 Thanks to reader David Milch of the New York licensing and marketing firm Perpetual Licensing for alerting us that the Hydrox cookie is back.
Hydrox, and its sister cookie Lemon Coolers, are Number 87 on the BrandlandUSA list of 100 Dead Brands to Bring Back. However, in the previous post, BrandlandUSA feels that the Sunshine brand is an important part of the naming of the cookie (see old ad at right).
That a competitive cookie to Oreo, once made by Sunshine, has returned to the market after enormous consumer pressure is great news. The Journal reported that the product return came after 1,300 phone calls and 1,000 signatures.
"These loyalists can be proud to know they've been heard," Brad Davidson, head of Kellogg's snack division, told the Journal.
This unprecedented reintroduction on the part of Kellogg Company, in response to impassioned consumer demand, comes in honor of the cookie's 100th anniversary this year.
Originated by the Sunshine Biscuit Company in 1908, Hydrox cookies were reformulated and re-branded in 1999. The consumer campaign to "Bring Back Hydrox" has succeeded in persuading the Kellogg Company, which acquired the brand in 2001, to return Hydrox cookies to stores as a limited 100th anniversary edition.
"For the generations of fans who grew up on Hydrox cookies, it is more than just a delicious, creamy-filled chocolate sandwich cookie," said Davidson in a press release. "We've been touched by how many consumers describe their preference for Hydrox cookies as interwoven with their identity and family history. These Hydrox cookie loyalists can be proud to know they've been heard, and have inspired this latest chapter in the story of the 'little cookie that could'."
Limited Edition 100th Anniversary Hydrox® cookies will follow the original, beloved Hydrox recipe, though they will contain 0 grams trans fat. The cookies will be available nationally beginning in late August at the suggested retail price of $2.50 for a 14 oz. package while supplies last.
Davidson should know that Lemon Coolers are also missed. He better start huntin' up old Sunshine recipes!
The Hydrox cookie had a funny history; many believed that they disappeared because the cookie name had become a pejorative in the old South, and used disparagingly. Frankly, the Hydrox never had as much of a distribution network as Nabisco's Oreo, and it never got the shelf space.
It will return as a niche, specialty brand.
This is a good policy for old brands. Sometimes, the demand is low. When the products are re-released on a periodic basis, they become a specialty product. The owner of the recipe and intellectual property can keep it alive, but it does not have the expensive overhead of a major national brand. If the product return is a hit, then it can expand the distribution of the product again.
Editor's Note: Kellogg's eventually pulled Hydrox off the market, and it is now, in 2015, back again.