Are you listening, Macy's? You heard a protest of 200 folks, telling you that they loved your store. While it might not seem like alot to you, the reality is that if 200 people would dress up on a Sunday afternoon in odd costume and protest, there are about 2,000 other Chicagoland people who strongly sympathize.
These 200 folks have lots of family and friends, and they are telling their friends how silly Macy's is being on this whole issue. Handing out Frango to everyone doesn't do it. The key is using the Marshall Field's name, in small doses or large. People want to hear the name Marshall Field, anywhere. So here are a few ideas on ways you could bring the name back.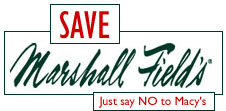 Rename the Chicago store in name as Marshall Field's, but operate it as Macy's. Instead of calling it Macy's at State Street, call it

Macy's at Marshall

Field's

.
Re-introduce Marshall Field

(no apostrophe "s")

as a store brand. Why in the world are you pushing other store brand names at Macy's (Charter Club Home, Tools of the Trade, and Hotel Collection), but are not using the name Marshall Field as a store brand?
Re-launch a tiny niche Marshall Field's catalog at Christmastime.
Quietly, oh so quietly, rename the

Macy's North

division the Marshall Field Division. You don't have to re-flag the stores, which is expensive when the whole Macy's chain is suffering. But if you allow staff, customers and vendors to use the name in a soft-sell way business-to-business, this will preserve the rights to use this name. If Macy's does not make a good faith effort to use the brand name, you can lose it. And that name has millions in value; a small internal move like this will add to the balance sheet.
Make a Marshall Field's website that by all effect operates as a Macy's site, but puts the Marshall Field's name out front.
Pull a Conch Republic, and rename the State Street store once a year "Marshall Field's" during the holiday season with a "Give the Lady" sale. That would be fun.
Offer Macy's cardholders the opportunity to have a Marshall Field's co-branded store charge card.
Make the State Street BUILDING an independent Marshall Field's unit of Macy's, with its own identity, while leaving all the suburban stores as Macy's. In truth, the old department stores were really collections of smaller stores and leased concession shops, all operating under the department store name, the earliest shopping malls. So how about the store complex being a retail complex called Marshall Field's, with Macy's being one of the smaller shops inside. Then, the Marshall Field Store at State Street, connected with the brand trademarks and goodwill, will add to the balance sheet, yet not detract at all from the Macy's name.
Even forgetting that there is a Marshall Field's store name, Marshall Field was person, and his trusted name means everything to Chicagoans. So use it.
And here's another point for Macy's stockholders. In the second largest metropolitan region of the U.S., your name is being dragged through the mud, not only as insensitive, but as incompetent. This is not good.
No one of these above solutions is correct; the correct answer can only be determined by store officials who just swallow a wee bit of pride and make a good faith effort to harness the goodwill in Chicago for that State Street store. I promise you, it will be good for sales. And it doesn't have to be a big mea culpa. Instead, Macy's should take little steps in bringing the name back. Repairing this is a process, not a one-time act.
In fact, Macy's skilled-but-beleaguered press department can use the line "Give the lady what she wants" when they announce the first of these name changes. It will signal not only that Macy's understands the Field's shopper, but it will show a sense of humor about the whole thing.
Editor's Note: Want to read our most up to date mentions of Marshall Field's? Click here on all our stories that concern Marshall Field's.