SEATTLE – On Oct. 15, 2022, exactly 150 years to the date of the departure of the first Rotterdam's maiden voyage, the newest Rotterdam of the Holland America Line will recreate the company's early sailing.
The crossing will leave Rotterdam for New York, with calls at Plymouth and Dover, then on to Ft. Lauderdale. The ship will stay overnight in New York.
The current Rotterdam, built by Italy's Fincantieri, joined the Holland America fleet in July of 2021. Henderson, Coulborn and Co. shipyard in Renfrew, Scotland built the original Rotterdam in 1872 and launched her on 6 June 1872. The original steamshipcoal powered screw, and sail. This is the seventh Rotterdam.
Holland America, headquarted in Rotterdam, was at first a liner company, operating passenger and cargo ships. It later moved to Seattle, to be closer to its cruise business.
For its formal 150th anniversary celebrated next on April 18, 2023, Holland America Line will add a second commemorative transatlantic crossing aboard Rotterdam. Departing from Fort Lauderdale, Florida, on April 3, 2023, the 16-night itinerary sails to Rotterdam, the Netherlands, retracing in reverse a first voyage.
"As we got deeper into planning the events surrounding our 150th, we knew that the best place to celebrate the date of our founding was in the city of Rotterdam where it all started," said Gus Antorcha, president of Holland America Line. "These voyages that mark our first departure and our anniversary are going to be incredibly memorable as we retrace our first sailing from the 1870s, but on a modern, luxury cruise ship."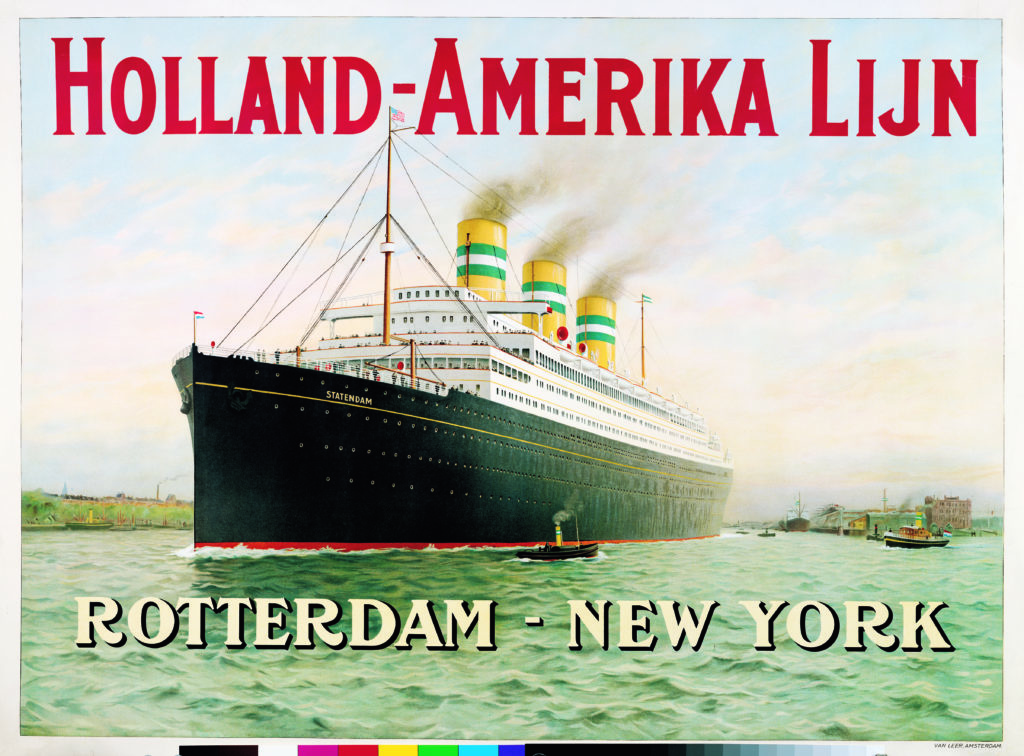 Holland America Line is one of the original surviving scheduled shipping lines. It was originally the Nederlandsche-Amerikaansche Stoomvaart Maatschappij (Dutch-American Steamship Company), in short Holland-Amerika Lijn. Their original headquarters building in Rotterdam is the German Art Nouveau style (Jugendstil) Hotel New York, by architects J. Muller and Droogleever Fortuin. It is today a unit of the publicly traded Carnival PLC. Since 1989, it has been U.S. based.
Cruise line historian Michael Grace wrote that the line was among the top in service, and operated transatlantic service until 1971. It was one of the first liner companies to offer cruises; early in the last century it offered Americans a trip to Palestine, and was the first to specialize in Alaska tours. In Alaska the company also operated a rail service, a throwback to the era of Canadian Pacific, which operated steamships, the Canadian Pacific Railroad, and CP Air.
Holland America Line produced some noted ships from the 36,000 gross ton SS Nieuw Amsterdam of 1937, probably the only large passenger liner at the time that was not completed with any expectation of serving for the military, and the SS Rotterdam of 1959, one of the first ships on the North Atlantic to be equipped for two class transatlantic crossing and one class luxury cruising.

Michael Grace, Cruise Historian, Cruise Line History
Her Royal Highness Princess Margriet of the Netherlands served as godmother of the newest Rotterdam in May, 2022. The company had postponed the ceremony due to covid.
The company's connection to the House of Orange goes back nearly a century to Prince Hendrik launching Statendam III in 1929. Members of the Dutch Royal Family have launched 11 other vessels, including Her Royal Highness Princess Margriet who named Prinsendam (1972), Nieuw Amsterdam III (1983), Rotterdam VI (1997) and Oosterdam (2003).
Additional members of the Dutch Royal Family who are godmothers include Queen Máxima, who named Koningsdam in 2016 and Nieuw Amsterdam in 2010. Then-Queen Beatrix served as Eurodam's godmother in 2008. Rotterdam V was launched in 1958 by Queen Juliana. Then-Princess Beatrix named Statendam IV in 1957 and Prinses Margriet in 1960. Nieuw Amsterdam II was launched by Queen Wilhelmina in 1937.
Rotterdam was delivered by the Fincantieri shipyard in Italy July 30, 2021, and sailed a transatlantic first voyage before spending the fall and winter on its inaugural Caribbean season sailing roundtrip from Fort Lauderdale, Florida. Beginning in May, the ship will explore Europe, heading to Norway, the Baltic, British Isles and Iceland, all sailing roundtrip from Amsterdam.
Cruise lines are particularly good at preserving and celebrating corporate history as a marketing premise. Unlike the commodity approach used by airlines, cruise ship lines understand the value of historic brands as a way of adding value to a travel experience.
Carnival Corporation & plc, based in the U.K. and Florida, owns a number of storied shipping lines, including Cunard, Peninsular & Oriental Steam Navigation Company (P&O), and Costa, founded in 1854 by Giacomo Costa as Giacomo Costa fu Andrea. Princess Cruises is a subsidiary as well, a former unit of P&O. It began as Carnival Cruises.
Find Out More