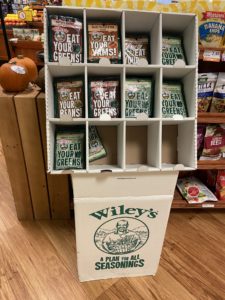 FAIRFIELD, Conn. – Uncle Wiley's is a food seasoning brand for the produce aisle, geared to vegetables like yams and greens.
With simply titled seasonings, each flavor packet describes what it is for, no explanations needed. Flavors include Eat Your Beans, Eat Your Greens and Eat Your Yams. Retail prices are about $1.50, and the packaging is sharp. A display at a local Winn-Dixie was selling well, with a cardboard display right in a center aisle.
The company's founder, Wiley Mullins, thought of a better way to season vegetables without the resorting to sugar, molasses or fat. A native of Alabama, Mullins worked at Procter & Gamble after he received his Duke Fuqua School MBA. He founded the company in 1992, and it now has national distribution.
A display in a local Winn-Dixie was selling well this weekend, with empty slots.
Find out more at unclewileys.com
Uncle Wiley's Company, 1220 Post Rd., Fairfield, CT, 06824