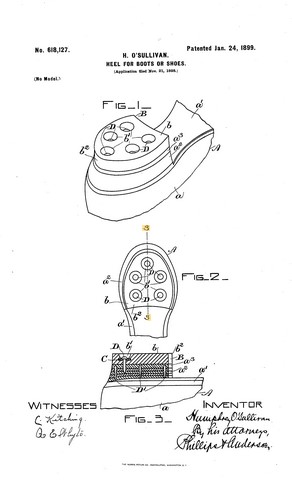 A BrandlandUSA reader asked about the history of America's Number One Heel.
The heel brand was O'Sullivan; it was the invention of Humphrey O'Sullivan, of Lowell, Mass., in 1896. O'Sullivan attached pieces of rubber to his shoes to ease leg fatigue. From then on, consumers have sought tech solutions to aching feet, creating the multi-billion dollar sneaker industry that we know today. Other companies followed in the wake of O'Sullivan, including Cat's Paw, Biltrite and Goodyear. Goodyear is still a major player in footwear, with its performance Goodyear Footwear.
The invention had O'Sullivan nailing pieces of rubber to his shoes to ease the leg fatigue caused by long hours of standing in front of his printing press. In 1899, O'Sullivan began producing the rubber heel. It became the O'Sullivan Rubber Co., which in 1932 moved to Winchester, Va.
The reader, Jim Dator, remembered that:
As a youngster in the late '40s and early '50s, I read the jokes and sayings in the Readers' Digest (to which my Mother, who died in 2002 at age 93, had a lifetime subscription). One joke described the ad, with the winsome woman proclaiming she was in love with America's number one heel. Some woman had written on the poster, in red lipstick: "Too bad, Honey. I married him".

Jim Dator, BrandlandUSA Reader.
Sadly, the heels are apparently no longer made. The company moved into other business segments. O'Sullivan was once among the top makers of "home assembly" desks, entertainment centers and shelves in the U.S., with factories in South Boston, Virginia; Cedar City, Utah; and Lamar, Missouri. In 1999 O'Sullivan reported $379.6 million in sales and employed 2,350 people. In 2007, Sauder purchased the furniture assets of O'Sullivan Industries. It did not buy the company, only the right to manufacture and its product lines, then sold at Lowe's.
The remnant of O'Sullivan Films produces polymer films and finishing film technologies serving the building products, marine, consumer and automotive markets at its facilities in Winchester under the brands O'Sea Marine and Regalite. In 2006, the company was acquired from PolyOne Corporation by management and investors. In June 2017, O'Sullivan Films became a part of Continental AG as the Hornschuch Group, parent of O'Sullivan — was merged with Continental subsidiary Benecke-Kaliko AG. The O'Sullivan Film web page now links to Continental. Continental is a German tire maker founded in 1871.
The company has a useful timeline for how they got to where they are:
1940's: Vinyl plant begins producing handbags and furniture upholstery.
1950's: O'Sullivan enters the automotive industry with materials for door panels and instrument panels.
1960's-90's: O'Sullivan produces pool liners and products for healthcare.
2000's: O'Sullivan enters the marine and auto clear vinyl window market.
Below, some images of the heels. At bottom, some applications of their vinyl in a video. Further below, a video from the company Sailrite, a company that encourages DIY awnings and bimini tops for marine and home use.
And a comparison of different marine clear vinyl options that show how the industry works.