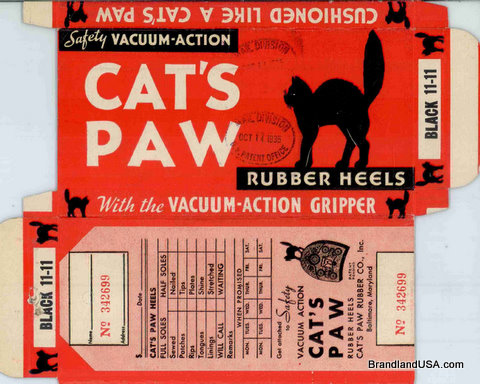 First used in 1904, Cat's Paw is one of the great American brands. The cat, according to Hal Morgan's book Symbols of America, was designed by Lucian Bernhard for the Cat's Paw Company of Baltimore. Bernhard is a famed German graphic designer who is best known for the font Bernhard, and his style of poster-making. When the trademark was officially registered in 1936, it was registered to Cat's Paw Rubber Company Inc., Warner and Ostend Streets, Baltimore.
The brand now is registered to Biltrite of Waltham, Mass.; sadly their website was not up at the time of posting, it is unclear by visiting shoe repair shops to know if the brand is still around. Their trademark registration is current, registered to Biltrite Corp., 51 Sawyer Road, Box 9045, Waltham, Mass.
Cat's Paw is also part of our culture. Folks even claim it was Cat's Paw that identified the bluchers worn by Amelia Earhart, as a pair of shoes found on the island Nikomaroro could be identified by the Cat's Paw soles, or so NPR reports. And it appeared as a clue in murder investigations, including the Waterbury, Conn. Irving Pasternack murder in 1974.
The chief benefit of the brand is that it not only resoles a worn-out shoe, but it makes it better, and less slippery. For instance, the Bass Weejun works better with a rubber sole, yet it does not change the essential nature of the factory product.
In a time when people kept good shoes for a long time, Cat's Paw was part of a number of shoe sole or shoe heel brands that included Vibram, Biltrite, Holtite, Panco and O'Sullivan.
Cat's Paw is the perfect brand to be continued to be "Made in USA." First, it is not price sensitive. If the heel is a few dollars more, the cost in a new heel is the labor, not the rubber. Secondly, the protection of a known brand name, for a slightly larger price, is small beans compared to the overall cost of the new heel. So when installing, the buyer, who has already decided to repair for a goodly amount, could easily be convinced that a brand-name sole is worth it. Thirdly, there is not a lot of labor in making rubber heels these days. The labor is in sorting and such, which still needs to be done at the warehouse level. Lastly, it gives a brand appeal to something that could be considered a commodity. It makes something that could be considered downscale upscale.
Note: Read our story on the value of repair in a slow economy when consumers, who have extra time, search for quality goods.
Would love some readers to comment on the status of the brand, and what other shoe brands are out there.