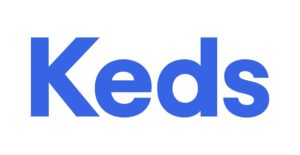 NEW YORK – The sneaker brand Keds announced what they called a "brand refresh" this week. The Keds shoe brand has an updated logo in a newer shade of blue, in a promotional push coming after DSW's purchase of the rubber shoe pioneer from Wolverine Worldwide.
"The brand refresh is rooted in Keds' rich history," said Kathleen Sullivan, senior director of marketing at Keds, in a release. "Since its beginning over a century ago, Keds has championed the freedom of individual expression; creating accessible, comfortable, fashionable footwear that offers a blank canvas (both figuratively and literally) for wearers to experiment with style and self-expression."
Keds, established in 1916 with the Keds Champion sneaker, is part of Designer Brands, owner of DSW Shoe Warehouse (NYSE: DBI). In February, the publicly traded DSW purchased Keds from Wolverine Worldwide. It is best known for the so-called "oxford" tennis shoe with a canvas top and rubber sole. The back of the shoes always had a blue logo with the word Keds inside a square.
The shoe maker Wolverine and DSW have been working together in recent years. DSW had made a retail home and special deal for Wolverine Hush Puppies brand in 2021.
Began With Tires
Keds, and its brother brand Pro-Keds, have had numerous owners over their lives. Like many other sneaker brands that were a part of tire companies, the Keds brand was first part of a tire company, U.S. Rubber later Uniroyal. In 2007, it became part of a company that included PayLess Shoe Source. In 2012, Wolverine added the shoe brands Saucony, Keds, Stride Rite and Sperry Top-Sider to its portfolio for $1.23 billion, from what had evolved into Collective Brands.
DSW describes Keds as an "iconic brand for women, men and kids alike, with a legacy of being versatile, comfortable and fashionable." The brand was so a part of American life that it was worn by Marilyn Monroe and Audrey Hepburn, among other famous folk. It is one of a set of classic sport shoe brands that were part of rubber companies, including B.F. Goodrich, maker of Jack Purcell tennis shoes and SeaVees, Dunlop, Firestone and Goodyear, which recently launched a footwear line.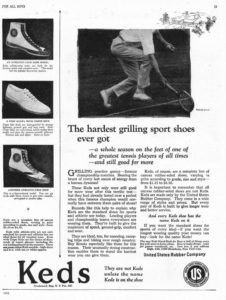 The announced transaction includes all of Keds' products, including Pro-Keds, as well as the brand's ecommerce business. Other recent brand purchases of DSW include Le Tigre and Topo Athletic.
"Our growing strength in Owned Brands is evident, given that just twelve months ago, the athleisure category was a massive white space opportunity for us, and we now control high-quality brands across multiple price points," said Doug Howe, incoming chief executive officer and president, in February. "Our acquisition of Keds, which has an important presence in the athleisure space, is particularly exciting as it is an iconic brand with broad appeal for our customers and their families that gives us the potential to explore new opportunities both online and internationally."
New Blue Hue
Keds will debut updated logo in a new blue hue and a "revised brand platform centered around self-expression and the joy of dressing."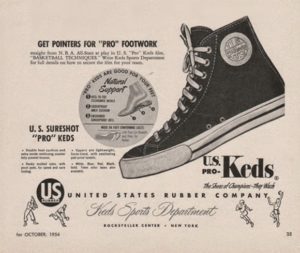 Alongside the brand refresh, Keds has launched three new sneaker styles that the company says emphasizes playfulness, timelessness and history. Starting with the classic Keds Champion, Keds reworked their original styles using the DNA of their classic sneaker silhouettes. The lineup is priced from $50 to $80. Styles include:
The Keds Champion, an instantly recognizable design with all-day comfort;
The Court, a sporty spin with classic court sneaker vibes;
The Platform, an elevated update with dress-up appeal and cushiony comfort; and
The Mini, a streamlined, ultra-feminine twist with flirty ballet flat looks.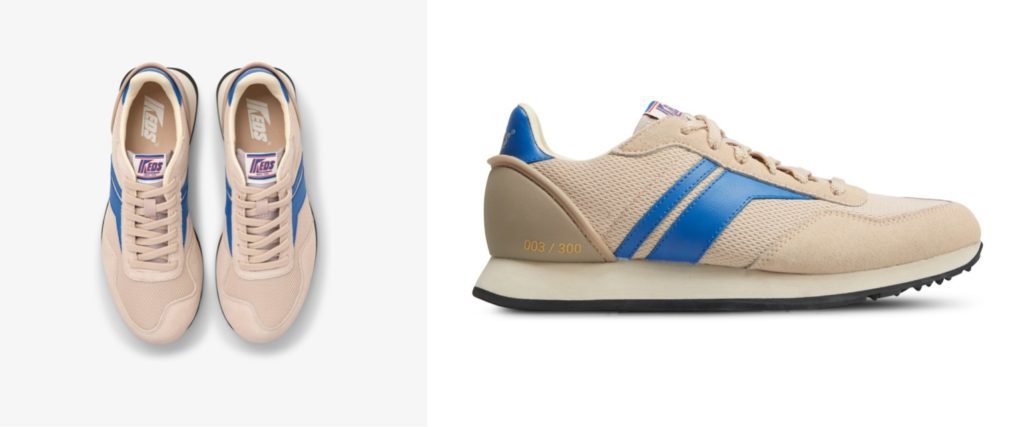 The collection was brought to life through the lens of photographer Jacob Consenstein and production company Family Projects using bold, playful styling, clean, classic backdrops, and retro props.
The company brought back the Keds Renaissance in 2022, one of many archival shoes it has brought back. The return came with the partnership of the brand Bodega, according to Jen Lynch, then VP and general manager of "We look forward to celebrating and showcasing our heritage and depth of archive with a series of high-profile drops throughout the year."