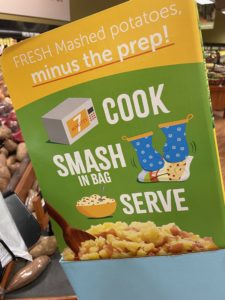 A few items seen in the grocery aisles of brands from grocery and retail stores, including Green Giant, Mondelez Nabisco, The Silver Palate and Braswell's:
The Green Giant, seen above, has gone to the produce aisle with Green Giant Fresh. The product is a package of seasoned potatoes that you you smash in the bag, and put in the microwave. The product is labeled as "Cook, Smash, Serve" and is promoted on stand-alone aisle point-of-sale cardboard displays. Green Giant is a brand of B&G Foods. The company is launching new products under the Green Giant brand, particularly in the fresh food and frozen aisles. They continue to produced canned food. In 2015, B&G Foods (NYSE:BGS) purchased the Green Giant and Le Sueur brands from General Mills, Inc. for approximately $765 million in cash.
The Mondelez Global brand Nabisco, seen below, is putting its classic, non-extended product brands at the top shelf of the cracker and cookie section. Non-extended brands are brands that are classic regular sellers in a category, and have not extended into other product variations. Brands that are in this category are Nabisco's Sociables, Vegetable Thins and Chicken in a Biskit. These "Flavor Originals" products are some of Nabisco's classic regular sellers in a category that has a longstanding relationship with consumers, and doesn't sell in a multiple of sizes.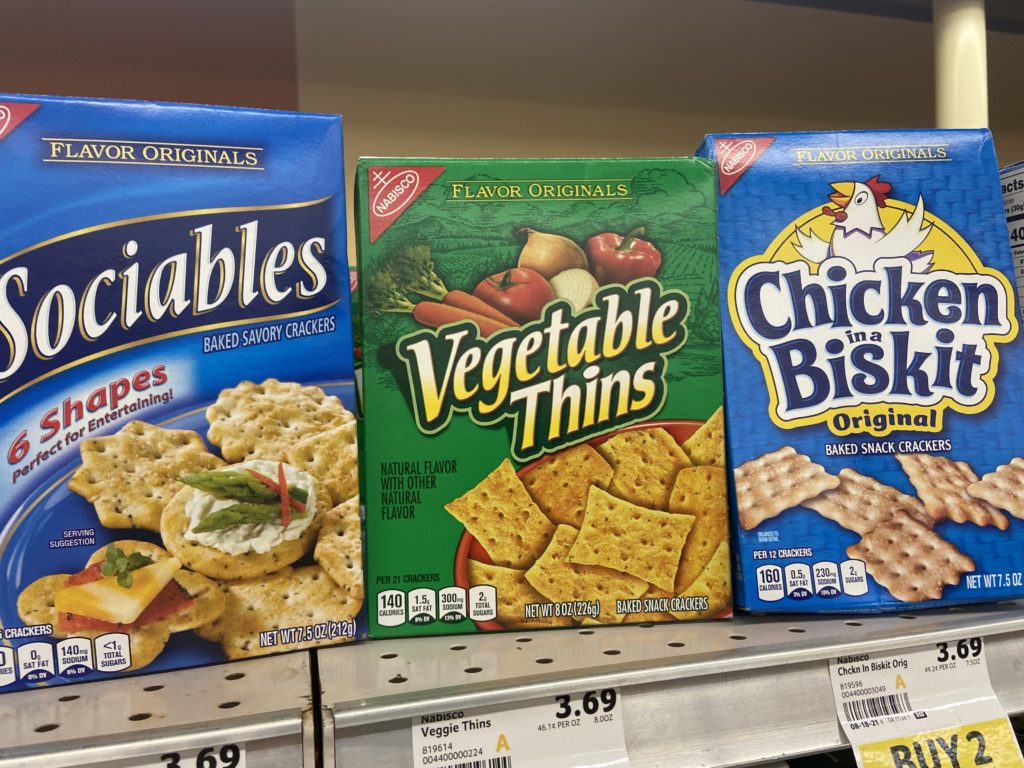 The Silver Palate continues to appear with items on grocery shelves. The Silver Palate was the popular Manhattan gourmet store that spawned a bestselling cookbook by founders Julee Rosso & Sheila Lukins. The brand was sold by the founders in 1988, and closed in 1993. Lukins died in 2009. Products from The Silver Palate extended into grocery store brands, and are all available online. Recipes continue to appear as products, including a new Classic Alfredo recipe. Julee Rosso is alive, and owns the Wickwood Inn in Saugatuck, Michigan.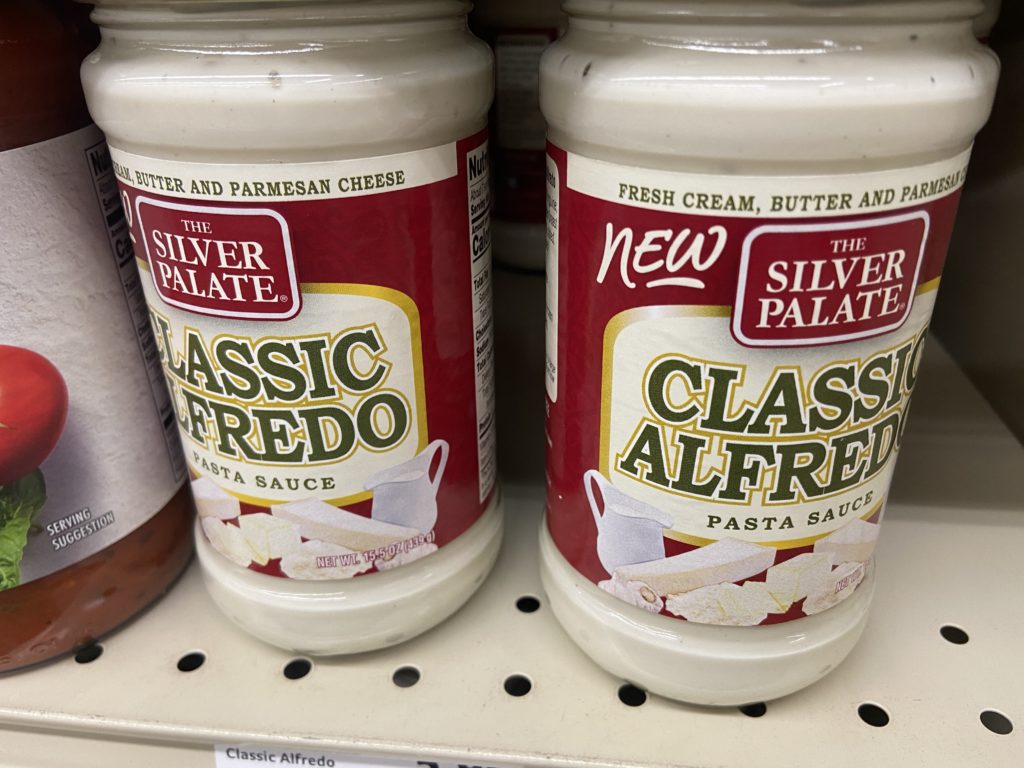 Aunt Jemima is slowly disappearing from grocery shelves across the nation. The replacement is the bland name Pearl Milling Company, which uses the same bottle shape. The only indication on the shelves is a small tag on the shelves which says that Pearl Milling is the "same great taste as Aunt Jemima." The company earlier dropped the face of Aunt Jemima. Brands like Log Cabin, seen below, are fully realized, including using the familiar Log Cabin bottle shape. The Aunt Jemima brand is owned by Quaker Oats, part of Pepsico. Other so-called plantation brands have taken a more clever approach to rebranding without a product icon, including the new Mars brand Ben's Original, which has sold out on some shelves, and is a renaming of Uncle Ben's.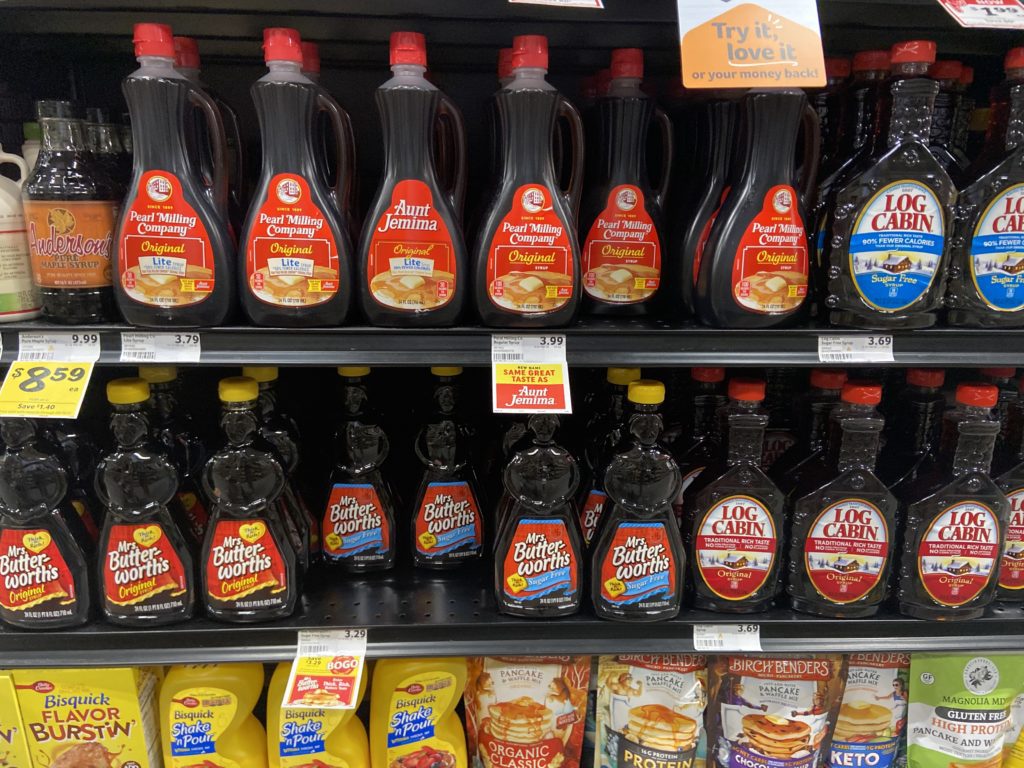 Braswell Food Company, the Georgia maker of jams and sauces, continues to improve its packaging and lineup of products. A standout on shelves today is Braswell's Select, a series of seafood sauces. The company, based in Statesboro, Georgia, sells private label and an increasing number of its own products. Braswell Food, founded in 1946, gained fame for its Braswell's Red Pepper Jelly, often eaten on crackers with cream cheese.