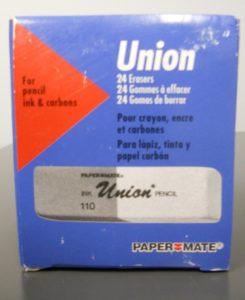 The United States once had dozens of pencil manufacturers. Among the better known was the Union Pencil Company Inc. of New York, also a maker of erasers.
The Union pencils, first an independent company, became a sister pencil product brand and sub brand of Eberhard Faber of Brooklyn.
The Union Pencil brand was registered Sept. 26, 1911, according to USPTO filings. It was later owned by Sanford LP of Illinois, and is now owned by the successor company to Sanford, Newell Brands, the maker of Paper Mate and Sharpie.
Eberhard Faber is best known for the Mongol 482 Number 2 pencil, made famous by economist Milton Friedman in his PBS series Free to Choose.
Currently, the Dixon Ticonderoga pencil, a product of FIFA Italy, claims a spot as the best pencil in the United States, but at one time the Mongol gave it a run.
In the early 20th century, there were dozens of U.S. pencil brands. Others included the Eagle Pencil Co., maker of the Turquois pencil.
A survivor U.S. pencil company is General Pencil of New Jersey, founded in 1889. (Please check their website if you want to order U.S. made pencils.)
For Union Pencil products, more recently, its two-tone gray and white erasers were advertised as a product of Paper Mate. They were sister erasers to the Pink Pearl, first a product of Eberhard Faber and now sold as a Paper Mate product. Note that the American Eberhard Faber is not the same company as the German Faber-Castel.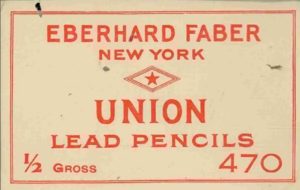 While its products cannot be found on line, the name is currently a live trademark, up for renewal by Newell this year as a trademark.
There may be many avenues for reviving this brand in the family of Newell Brands.