A roundup of recent brands in the news including Equal Sweetener, White House Detox, Yoplait Skittles and Doritos Classic Packaging.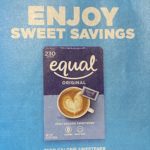 Equal Still Blue
The sweetener Equal is showing a new design that looks much less clinical. The trademark light blue is still there, with a much friendlier approach. Equal, invented by a chemist at G.D. Searle in 1981, is now owned by Merisant, a spin off of Monsanto, which purchased Equal from Searle. Merisant is part of Whole Earth Brands, which also owns MAFCO, the worlds largest licorice flavor maker. Equal, which is aspertame, is now a full line no sugar sweetener, and sells saccarine as well, in pink packets.
White House Detox
The White House (seen at top) brand of apple juice and apple products is promoting its Detox apple cider vinegar drink in stores across the country. But the apple juice has disappeared from some grocery chains through the south. The higher margin White House Detox vinegar brand capitalizes on the health benefits of vinegar. Additions read like a mom's remedy for colds, including honey, lemon, and cinnamon. They are designed to be taken as a shot. Brands like Mott's now dominate the apple juice category, along with other children's aseptic box brands and store offerings.
Yoplait Skittles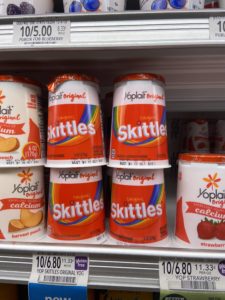 A brief appearance, then disappearance, was a Yoplait Skittles promotion seen in Florida grocery stores. The Yoplait brand has lost market share to more market conscious Greek yogurt brands like Chobani. General Mills purchased a controlling stake in the French yogurt company in 2011 for $1.2 billion. The remaining stake belongs to French dairy cooperative Sodiaal. The brand has struggled. The promotion does not look like candying it up will help it at all, and may be a distraction at a time when the market leadership is stressing natural ingredients. Whatever you think of Skittles, nothing about them speaks to health or children's nutrition.
Doritos Classic Packaging
Doritos is still producing an earlier throwback version of its packaging for its Doritos Taco Flavor Tortilla Chips, seen below. The traditional Doritos have more modern packaging. The throwback look Doritos debuted over a decade ago, and they return periodically with different types of chips.