PORTLAND, OREGON – Tillamook County Creamery Association, the century old dairy co-op, will open a play area at the PDX Airport, located in Concourse E, just in time for Memorial Day Weekend.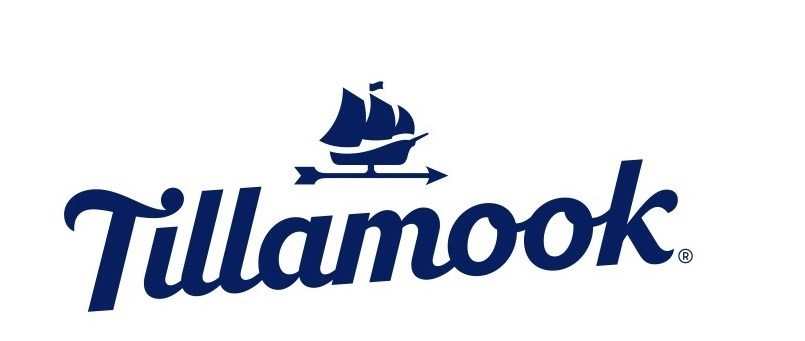 While Tillamook is known by name nationwide through its increased distribution in dairy cases, the PDX Play Area and already established Tillamook Market will allow visitors to learn a more complete story of the brand. This presentation includes the dairy co-op's history and heritage as a farmer-owned cooperative for over 110 years.
The 608 square foot play area will provide travelers of all ages and abilities with an opportunity to stretch their legs between flights and engage in a unique, interactive learning experience about TCCA, its dairy products, and the makers and farmer-owners behind them.
"While travelers from across the country may know us for our award-winning products, we hope that the PDX Play Area and Tillamook Market will share our complete story – from our 110+ history and heritage as a farmer-owned cooperative, to the passion and pride that our makers have for turning the finest ingredients into delicious, high-quality products," said Kate Boltin, vice president of brand marketing, in a release.
Tillamook collaborated with the Seattle-based architecture firm Olson Kundig in the project. The play area features a climbing area leading to a display of Tillamook products atop a life-sized flying Yum Bus, which also functions as a slide. The firm's principal architect, Tom Kundig, believes in architecture that respects both the geography of the place, and the needs of the people in it. Other recent factory-tour type projects of the firm include Canada's Martin's Lane Winery, where bottle production follows the geography of the site.
Dairy Perfect for Consumer Experience
There are many parallels in place-marketing between the dairy industry and wineries. Dairies, like wineries and micro-breweries, gain brand power by reflecting their regions, what the French call terroir. This is defined by Oxford as the "complete natural environment in which a particular wine is produced, including factors such as the soil, topography and climate." In places where consumers are allowed to see the production of dairy; because the best dairy is local, families can come and see the production close up. This builds a tight relationship between the farmer and local family.
Dairy is also an agricultural process that demands trust; health considerations during processing and milking must be transparent to consumers, and the better consumers understand the process, the more that they trust the farmer and dairy brand.
In the last decade, regional and new dairy brands have exploded, not only with butter brands like Kerry Gold, but the cottage cheese of Good Culture. In the yogurt section, Chobani, which has overtaken brands like Dannon and Yoplait, that have turned what were favorites into corporatized brands depending on co-promotions with candy companies like Skittles.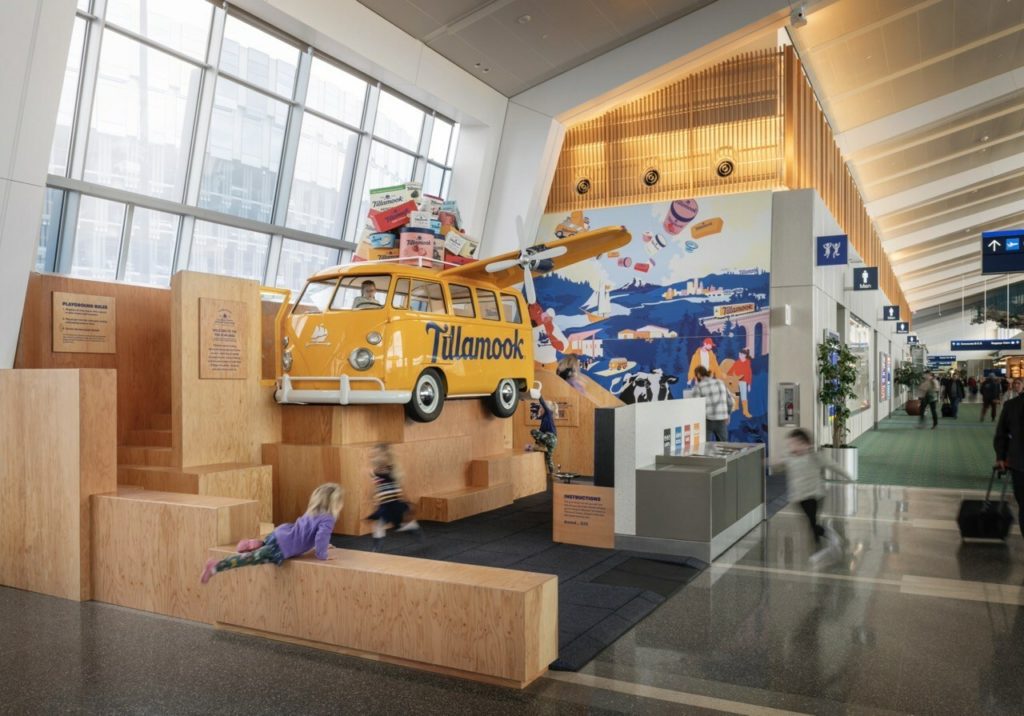 Yum Bus Becomes Yum Jet
Paige Yim, Senior Manager of Brand Experiences and Strategic Initiatives at Tillamook, highlighted the design's connection to the co-op's Oregon roots and the beloved promotional Yum Bus. The Yum Bus has been playfully transformed into a Yum Jet, symbolizing the spread of Tillamook products and joy across the nation.
In addition to its playful features, the PDX Play Area also boasts a 15-foot-tall mural showcasing Tillamook brand icons, including the historic Tillamook Morning Star. Visitors can scan QR codes on the mural to learn more about the Tillamook brand story. Furthermore, travelers will have the opportunity to receive a free printed coloring page and crayons at the Tillamook Market, also situated in Concourse E.
The Tillamook Market, which debuted as part of the PDX Concourse E expansion in Summer 2020, offers a menu featuring Tillamook Cheddar and Ice Cream products, as well as Tillamook merchandise. Since its opening, the Tillamook Market has seen numerous orders, including 1,842 baby loaves departing as cheddar carry-ons, over 24,837 orders of Tillamook's famous fried cheese curds, more than 45,719 scoops of ice cream, and nearly 128,000 Tillamook cheeseburgers and grilled cheese sandwiches enjoyed by PDX travelers.
Multiple Consumer Touchpoints
Tillamook's popularity owes its success not only to the quality of the dairy products, but the brand's investment in telling its own story with a factory-tour type experience. Their House that Cheddar Built, the Tillamook Creamery attraction, is not the only consumer touchpoint for the dairy brand. They operate a farm store, which sells not only dairy products, but the "supplies you need to keep your farm or home running."