There is a class of basic home remedies, still around, that one could have found at a Main Street independent pharmacy a century ago. One of those classics, often forgotten, is the drawing salve Smile's Prid.
Prid, which dates from 1947, treats blisters and boils, and other noxious conditions one might have had in the Middle Ages. Chaucer wrote about the conditions of the comical Summoner, the creepy Catholic churchman who drags people to ecclesiastical court. So noxious was the Summoner that:
There was no mercury, sulphur, or litharge,
No borax, ceruse, tartar could discharge,
Nor ointment that could cleanse enough, or bite,
To free him of his boils and pimples white,
Perhaps the Summoner never encountered Prid.
Today, there are still many time-tested remedies for the skin that would have been found in a house in 1950, or 1920, and are still of use. These oils, liniments, salves and compounds, with generic products like epsom salt, calamine lotion and petroleum jelly, fix basic issues with the body and skin. Everything from aches to boils. Time-tested brands in this category include Tiger Balm, Mentolatum Ointment, Watkins Liniment, Vicks VapoRub, Antiphlogistine, Domeboro rash relief, Dr. Teals (various oils and products), Desitin (zinc oxide), Dr. Sheffield's Therma-Rub, Palmer's Cocoa Butter and Ben Gay.
One of the lesser known brands is Smile's Prid, thought it is found at most drug stores. Sold by Hyland's Naturals, it is suggested for ingrown hairs, splinters and the relief of itching from scrapes, boils, insect bites and other minor skin eruptions. It is perfectly named; whether "pimple rid" (aka p-rid) was the origin, having a short, simple, declarative name, along with an unforgettable smell and package, makes it memorable. That it comes in a durable metal tin, smaller than shoe polish, gives it longevity on the medicine cabinet shelf.
The package design is clear, straightforward and should not be mucked with.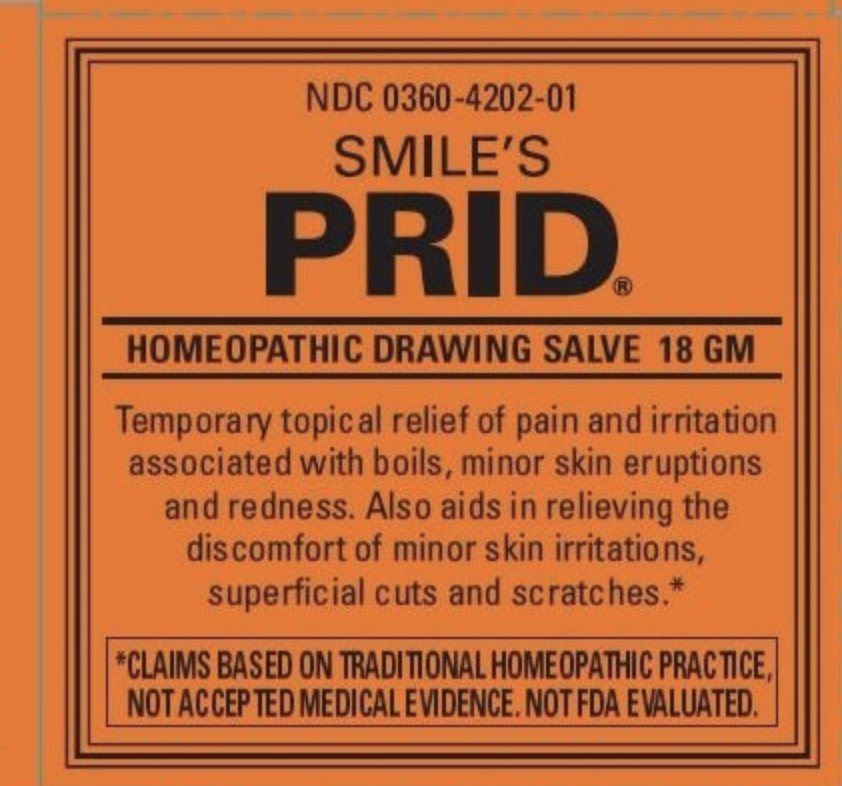 The brand's trademark filing cites the product's "first use" as early as 1947, by the Standard Homeopathic Company. The ingredients are familiar. Some home remedies of salve are basic mixes of beeswax and charcoal. The recipe for Prid has active ingredients including Ichthammol (made of sulfonated shale oil), echinacea, calcium sulfide, arnica flower and calendula, essentially marigolds. There are also ingredients not to be trifled with in large amounts. It includes phenol, or carbolic acid, which is present with many common remedies including Chloraseptic. The calendula, which is an oil derived from the marigold (Calendula officinalis) flower, has been studied not only for its palliative role in cancer care, but also for an active role.
The brand Prid, now referred to on the web as Hyland's Natural Prid, has gained some recent newer fame and cult status as some are pushing it as a cure for skin cancer, with YouTube videos and such. Giant skin boils are healed, with before and after pictures of great effectiveness. The media has tried to tamp down on the enthusiasm, quoting dermatologists, who would prefer to take a biopsy of anything that looks like cancer. They also say it can damage the skin.
The FDA, known as an organization that approved such medical wonders as oxycodone and fentanyl, has dire warnings about the use of black salve in general. They say, "Although not all salves are dangerous, topically applied products with the above ingredients can destroy the skin and result in permanent disfigurement, tissue necrosis (death of cells in living tissue), and can result in infection. Furthermore, using salve products such as black salve for serious conditions like skin cancer can result in delayed cancer diagnosis and cancer progression."
Rationally, it is all a bit condescending, and over the top. The reality is that it is good to take care of small types of issues on the skin, in between visits to a dermatologist. There is also a large class of people who cannot afford a dermatologist, or go intermittently. It also may, occasionally, work. And there is some merit to different approaches to skin. We all have different skin types, and different conditions. While Prid should never be considered a cure for cancer, not all dermatologists are careful in their approaches. Let us all agree on a conservative approach, which appreciates basic home care, and works in conjunction with a trustworthy physician.
At bottom are the active ingredients as they are listed by the NIH. Things like beeswax, while not active, are a help, however, as they provide relief on the skin.
| | | |
| --- | --- | --- |
| ECHINACEA ANGUSTIFOLIA (UNII: VB06AV5US8) (ECHINACEA ANGUSTIFOLIA – UNII:VB06AV5US8) | ECHINACEA ANGUSTIFOLIA | 3 [hp_X] |
| SULFUR (UNII: 70FD1KFU70) (SULFUR – UNII:70FD1KFU70) | SULFUR | 12 [hp_X] |
| CALCIUM SULFIDE (UNII: 1MBW07J51Q) (CALCIUM SULFIDE – UNII:1MBW07J51Q) | CALCIUM SULFIDE | 12 [hp_X] |
| SILICON DIOXIDE (UNII: ETJ7Z6XBU4) (SILICON DIOXIDE – UNII:ETJ7Z6XBU4) | SILICON DIOXIDE | 12 [hp_X] |
| CALENDULA OFFICINALIS FLOWERING TOP (UNII: 18E7415PXQ) (CALENDULA OFFICINALIS FLOWERING TOP – UNII:18E7415PXQ) | CALENDULA OFFICINALIS FLOWERING TOP | 3 [hp_X] |
| PHENOL (UNII: 339NCG44TV) (PHENOL – UNII:339NCG44TV) | PHENOL | 2 [hp_X] |
| ICHTHAMMOL (UNII: NQ14646378) (ICHTHAMMOL – UNII:NQ14646378) | ICHTHAMMOL | 2 [hp_X] |
| ARNICA MONTANA FLOWER (UNII: OZ0E5Y15PZ) (ARNICA MONTANA FLOWER – UNII:OZ0E5Y15PZ) | ARNICA MONTANA FLOWER | 3 [hp_X] |
Chart of ingredients of Prid from NIH.