Need to feel better when you travel?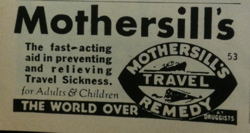 The name synonymous with seasickness was Mothersill's, first registered as a trademark in 1926. Made by the Mothersill Remedy Company of Montreal and New York, it was first Mothersill's Seasick Remedy.
Somehow, the brand's marketing did not translate to the jet era, and the trademark went defunct in 1966.
Author
J. Garland Pollard IV is editor/publisher of BrandlandUSA. Since 2006, the website BrandlandUSA.com has chronicled the history and business of America's great brands.