DALLAS – The maker of Kleenex, Kotex and Huggies, the publicly traded Kimberly-Clark, celebrates its 150th anniversary this month.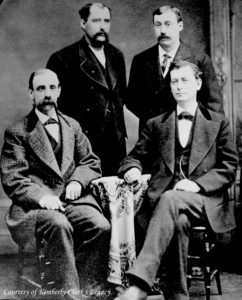 The company roots are in Wisconsin; their first sale was a stack of writing paper made from rags and linens at the Globe Mill in Neenah, Wisconsin on October 22, 1872.
The company began as Kimberly, Clark and Co. with founders John Kimberly, Havilah Babcock, Charles Clark and Franklyn Shattuck.
The company introduced the sanitary napkin, Kotex, in 1920. Their best known product, Kleenex, dates from June of 1924, offered by the Cellucotton Products Company. Later products include Huggies diapers and Depend diapers for incontinent adults.
The company has the unique position within the corporate world of having not just one, but a number of products with names synonymous with the category. The products are so associated with the category that a Kleenex, Pull-up, Kotex or Depend need no further definition. The company also has adapted old formats (ie. pads, cellulose and cotton) to new categories. In the 1970s, for instancy, they created the beltless pad with the Kotex spin-off product New Freedom. The brand slogan was so successful that the slogan "hey are you a New Freedom lady" became catchphrase and part of the vernacular.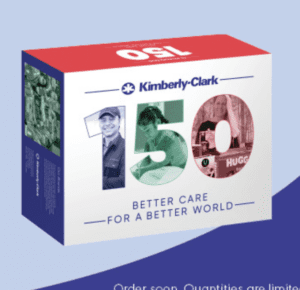 The publicly traded (NYSE: KMB) company is now in 175 countries.
Other products brands include Scott, Cottonelle, Poise, Andrex, Pull-Ups, GoodNites, Intimus, Neve, Plenitud, Sweety, Softex, Viva and WypAll. The company still has roots in science; its Kimwipes are used by labs and photography to clean without leaving a trace of lint.
As a 150th year promotion, the company has come up with a $29 gift box with a sample of many of its products.
While company corporate headquarters are in Dallas, their North American Consumer Business Office and some of their manufacturing are still in Neenah.