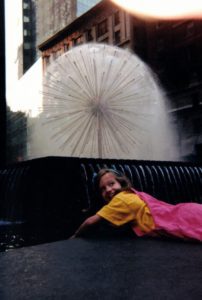 NEW YORK – The insurer Equitable and parent company Equitable Holdings Inc. signed a 15-year lease at 1345 Avenue of the Americas for their corporate headquarters, beginning in 2024. Usually, a new partial lease of an office building three years in advance is not news, but in this case, their commitment to having a headquarters in ailing New York City warranted a Business Wire press release. It's a bit of positive news for a city that has seen empty storefronts and departures, as riot and lockdowns have sent residents to the suburbs, and low-tax states like Tennessee and Florida.
"Equitable's own history runs parallel to that of New York City," said Mark Pearson, CEO of Equitable, in the press release. "For more than 160 years, we've weathered many storms together including worlds wars, the Great Depression, 9/11 and now the COVID-19 pandemic. But through these challenging times, we also have witnessed the best of humanity and are proud to stand with New Yorkers and call this city our home."
The insurer, which dates from 1859, has had a number of homes in New York. Founded by Henry Baldwin Hyde, the Equitable Life Assurance Society of the United States became the largest life insurer in the world. Buildings include:
The first Equitable building at 120 Broadway (1868-1912) was designed by architects Arthur Gilman and Edward Kendall. It had a number of firsts, including Otis Elevators. The tallest in the nation at the time, it burned.
The second Equitable building designed by Ernest Graham at 120 Broadway it is still in use, though the insurer left the building in 1960. The AIA Guide to New York City said that it was: "more famous for what it caused than what it is. An immense volume, it exploited its site as no building had before: 1,200,000 square feed on a plot of just under an acre, or a floor area of almost 30 times the sites area — maximum permitted under then 1961 zoning Resolution. The hue and cry after Equitable's completion led to the adoption of the first zoning resolution in 1916." Wikipedia's description repeats the old saw that it had more telephone lines than all of Greece.

Icicle-covered ruins of the first Equitable Life Assurance Society building in New York City. Photo by Irvin Underhill photographed on Jan. 11, 1912. Photo in Library of Congress.

The third Equitable building, home from 1961 on, was at 1285 Avenue of the Americas. That "Equitable Building" was designed by Skidmore, Owings & Merrill. The 1967 AIA Guide to New York City commented on the building curtly that it was "An SOM effort to get maximum working space for the price." Currently, headquarters is at 1290 Avenue of the Americas.
The news release was couched as a hopeful sign for New York, which has seen its population decamp, and companies disappear. The release called the new lease a "significant step for the company as an independent, U.S.-based organization focused on helping its 2.8 million clients secure their financial well-being."
"Equitable knows what we all know — New Yorkers do not give up when faced with huge challenges and despite these challenges, the future will be bright in New York State," said Empire State Development Acting Commissioner and President & CEO-designate Eric Gertler. "I am glad that Equitable, which was founded in New York City over 160 years ago, has reaffirmed its long-term commitment to New York State."
Located between 54th and 55th streets in Midtown, 1345 Avenue of the Americas is a 50-story, International Style skyscraper designed by Emery Roth & Sons. Owned by Fisher Brothers Management Co., it was originally Burlington House.
Equitable Holdings became independent in March of 2019, following a May 2018 initial public offering. In January of 2020, they announced that they would operate under the name Equitable. Globe Street reported a few years ago that former sister company AllianceBernstein, which occupied the building, had decamped to Nashville, leaving behind 992,043 square feet at 1345 Avenue of the Americas, expiring in 2024.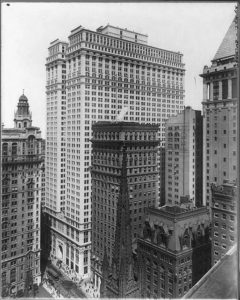 Just so we can keep the names all straight, here is what Bernstein came up with in 2015 when it rebranded. Wow.
Going forward, AB will have two new brand identities. The corporate entity, institutional and retail businesses will be referred to as AB. Sanford C. Bernstein, the sell-side business, and Bernstein Private Wealth Management will be referred to as Bernstein in the media in instances where the logo appears and as AB Bernstein where it does not. The legal name of the firm and its entities will not change.
Today, this is how Equitable refers to itself. the company is Equitable Financial Life Insurance Company with subsidiaries Equitable Holdings, Inc., including Equitable Financial Life Insurance Company (NY, NY), Equitable Financial Life Insurance Company of America, an AZ stock company with main administrative headquarters in Jersey City, NJ, and Equitable Distributors, LLC. Equitable Advisors is the brand name of Equitable Advisors LLC.
Speaking of elevators, the new headquarters has 31 Schindler gearless passenger elevators, 2 service elevators and 2 freight elevators.