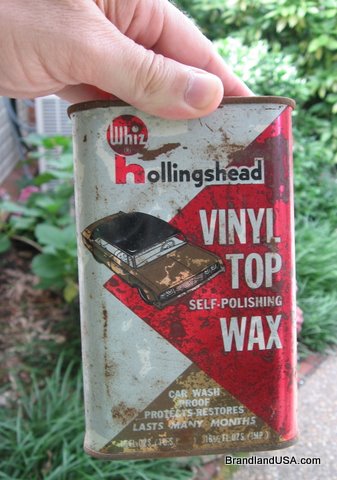 CAMDEN – We love the odd old brands. And one brand that could have been Armor All was Whiz Hollingshead. Whiz Hollingshead made all sorts of waxes and fluids for cars, as well as other products. The company was sort of the S.C. Johnson of the East Coast; their main product was Whiz Floor Wax.
At right, some vinyl top wax that appears to date from the 1960s; we happened upon it in a family garage.
We should have tested it out, or against some new Armor All.
The company was founded by Richard Milton Hollingshead, and also sold anti-freeze, as well as saddle soap. The brand Whiz was well known for many household products, including early stove cleaners. While it appears the vinyl top polish is no longer on the market, we recall that Whiz Hollingshead is famous for something else. Namely a spectacular fire that hit Camden, New Jersey.
Read about it on a great site of the Delaware Valley Rhythm and Blues Society:
A fire following a series of explosions in the R. M. Hollingshead Corpora­tion plant at Camden, N. J., on July 30, 1940, quickly assumed conflagration proportions due to ignition of large quantities of flammable liquids used in the manufacture of such items as auto grease, oil, anti-freeze, metal polish, wax, auto-top dressing, tire coating, brake fluid, paint remover, soap, antiseptics, and insecticides.
In the fire, 10 people died and over 100 were injured. It spread not only to factories but to nearby houses. Reports had 60 families homeless.