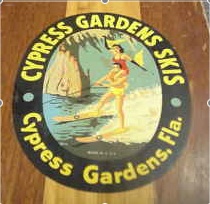 When folks look for water skis, brand names like Obrien and Connelly come to mind.
The main brand that comes to mind, though, is the Cypress Gardens Dick Pope brand. The question is what happened to Cypress Gardens Dick Pope skis?
There was a Dick Pope Jr AND Cypress Gardens.
They were the standard, the inventor. This would be like one day going to a bike shop and there weren't any more Schwinn bicycles, or no more Wilson tennis racquets.