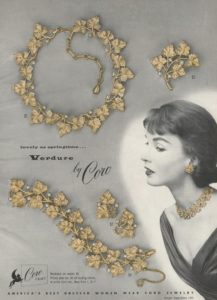 Of course, folks miss their favorite department stores. From Burdine's to Abraham & Straus to Marshall Field's, across the U.S. these beloved store brand names are no more. But the loss of the regional department store also affected the individual fashion brands and lines that the department stores carried. It was a numbers game.
With hundreds of regional department stores, there were hundreds of buyers to buy from brands and manufacturers like Hobe, Trifari, Mazer Brothers, Vendome, Eisenberg, Weiss, Danecraft, Coro, Sarah Coventry, Boucher, Miram Haskell, Nolan Miller and of course, Schiaperelli.
It was also in the 70s that fashion houses aggressively began to focus on licensing instead of manufacturing. But as the idea of owning a brand and licensing it out to manufacturers was growing, many older brands still wanted to integrate the two, and most did not survive.
The "costume" brands were not just cheaply made factory production items; many were genuine craft pieces themselves. Today, they have found a busy collectors market on eBay and the web. The collector market is driving a new appreciation for their workmanship and that history.
The video below from atlantavintagejewelry.com details a bit of the history. Another site with historical information is Jane Haley Clarke's New Mexico site morninggloryantiques.com.
One of the most scholarly sites is amazingadornments.com. It has short histories of a number of the brands at her Labor of Love page. One of the most fascinating was Coro, pictured above from her site; the site reports that the company established its own free jewelry craft college in the Northeast, and many of the students eventually went to work there. It was a true Arts & Crafts era.
Following are a few questions from Carolyn of AmazingAdornments.com.
BrandlandUSA: How long have you been interested in the topic?
AmazingAdornments.com: I have been interested in costume jewelry for over twenty years. Costume jewelry can be vintage, antique or contemporary. At first my interest was with contemporary costume jewelry and over the last ten years vintage and antique.
BrandlandUSA: How did you decide to start the "labor of love" part of the site with the information on the fashion companies?
Amazingadornments.com: I found that while trying to research pieces very few sites had both information on the designer/manufacturer and hallmarks. I also find this helps with Google rankings plus it gives my visitors more than just a place to shop for great costume jewelry!
BrandlandUSA: Are there some brands that deserve to return as companies?
AmazingAdornments.com: I would love to see them all return! Coro and Schiaparelli especially would be nice.
BrandlandUSA: What are some trends you are seeing in buyers?
AmazingAdornments.com: Vintage jewelry buyers do not always follow the current trends. Some are collectors while others are dealers. In general jewelry trends seem to be for lots of metal and metal and gemstones.
BrandlandUSA: What are some hot collectible areas of your operation?
AmazingAdornments: DeLizza and Elster jewelry, Miriam Haskell older pieces, Iradj Moini to name a few.

BrandlandUSA: What are some companies that are still in operation?
AmazingAdornments.com: Monet, Napier, Kenneth Lane amongst others.