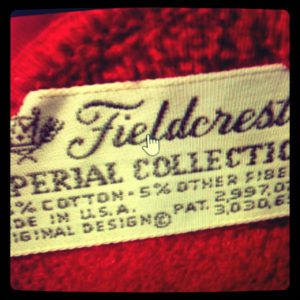 The brand licensing company that brought Candie's back will now own some of the greatest linen, home and bath brands in the world.
New York based Iconix Brand Group Inc. (Ticker ICON) announced Oct. 3, 2007 that it had purchased Official Pillowtex LLC, the licensing company that owns the towel and sheet brands Cannon, Royal Velvet, Fieldcrest and Charisma as well as St. Mary's and Santa Cruz. Kannapolis, N.C.-based Pillowtex was among the most awful company collapses in the history of American brands.
It went bankrupt in 2002, only to go bankrupt again. Over 6,000 jobs were lost. In the mess, there was one asset that wouldn't die. The conglomerated companies that made up Pillowtex were all great brand names, including Cannon and Fieldcrest, each with different histories. Cannon began in 1888 in Kannapolis, N.C., and was known for making some of the best towels in the world. Equally beloved, Fieldcrest of Fieldale, Virginia was a spin off of the Marshall Field's department store. Fieldcrest is now sold by Target.
Iconix paid $231 million cash for the brands. In a press release, Neil Cole, Chairman and CEO called the purchases a "diversifying and transformative acquisition for Iconix. The home sector is a natural progression for Iconix and we plan to infuse these brands with our strategic and innovative marketing as we expand them into new categories."
The company is on a roll. Cannon, Fieldcrest and St. Mary's are some of the best names in linens. Iconix is best known for its Candie's, Ocean Pacific, Mossimo, Joe Boxer, London Fog and Badgley Mischka brands. February it brough Danskin for $70 million, cash. It kept Danskin CEO Carol Hochman as a licensee, who will run Danskin's retail operations.
It's the post-modern company, with no overhead, no real estate. It just prints. Design and market the products in the U.S and make them in China. Like the company Collective Brands (ticker PSS), which owns Keds, Sperry Top-Sider and Saucony, or Perry Ellis (ticker PERY), which owns Penguin and Munsingwear, they own the gold — America's historic brands. The price that Iconix paid for the group of brands is instructive, especially when the name Marshall Field's was shut down and seen as value-less. For those interested in the histories of the brands, there is the Cannon Mills Textile Museum is in Kannapolis, N.C. The Fieldale Community Center survives in the old company town Fieldale, as does the old Marshall Field & Company Clubhouse, now called The Clubhouse Resort.