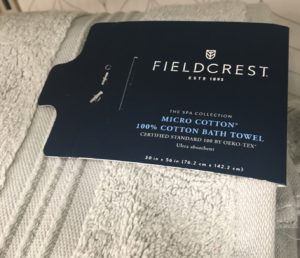 PLANO, Texas – Fieldcrest, the former house brand of the retired Chicago department store Marshall Field's, is now a featured brand at JCPenney. This spring, JCPenney added the brand to its merchandise portfolio. Another 2021 addition is the Loom + Forge decorating brand, giving the retailer a product that evokes the shiplap country style of Magnolia.
With Fieldcrest, the line will will add an expanded high-quality bedding, bath, utility, and window selections.
"Welcoming the Fieldcrest brand to JCPenney is a proud moment for us and a key milestone in our journey to re-establish JCPenney as a leading home destination," said Michelle Wlazlo, executive vice president and chief merchant, in a release.
Brands at Penney, Competitors
Penney has tried to grow the portfolio of home oriented brands offered as it has restructured. These brands include Cambridge, Cuisinart, Luminarc, Sonicare, PowerXL, Pure Enrichment, Nordic Ware, Schott Zwiesel, SensorPEDIC, Sharper Image, Wilton, and Zoku.
Forbes columnist and retail analyst Walter Loeb criticized some of the other new brand names added by JCPenney, saying that some of the new brand names were drab, including the Loom + Forge, Mynah, and Decree brands.
Other retail competitors, such as Bed, Bath & Beyond (NSDQ: BBY), offer linens and bedding with brands including Wamsutta, Ugg, Pure Beech and J. Queen. Macy's, (NYSE: M) which occupies the former Marshall Field department store buildings including the historic main Marshall Field store in Chicago, sells linen brands that include Martha Stewart, Hilfiger, Ralph Lauren and Martex. Target (NYSE: TGT), which was a spin off of Marshall Field, in the past had sold Fieldcrest. Today, its linen brands include Threshold and Opalhouse.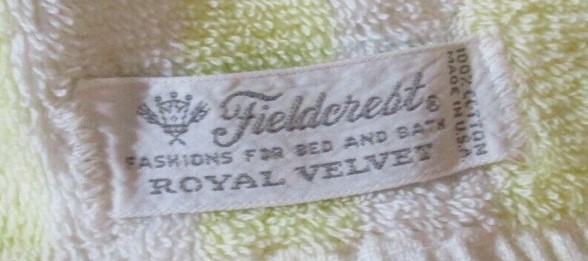 Fieldcrest was the house brand of the Marshall Field Department Store. The company was actually founded by Benjamin Franklin Mebane in 1893 in North Carolina. The Marshall Field Department Store purchased his company, which later opened a model textile plant in Fieldale, Virginia in 1919.
Fieldcrest's last leader under Fields was Milton Mumford, who left the company in 1954 when the department store sold its mills. The brand was spun off in an IPO in 1962, and became publicly traded. It purchased Cannon Mills in Kannapolis, N.C. in 1986. It is now part of the porfolio of Iconix Brand Group, a licensing firm, that purchased the brands in 2007.
Today, Iconix owns fashion and household brands that include Candie's, Bongo, Joe Boxer, Mudd, Mossimo, London Fog, Ocean Pacific, Danskin, Rocawear, Cannon, Royal Velvet, Charisma, Starter, Waverly, Zoo York, Umbro, Ecko. This June, Iconix annouced that it will go private, selling itself to an affiliate of Lancer Capital LLC for about $585 million, including debt.
JCPenney has had many house brand names over the years (see slideshow below), including another "crest" brand, Penncrest, which was used for appliances and electronics. For towels, they have used brands like Penco in the 1930s, and JCPenney Home Collection in more recent years. JCPenney also occasionally just put its name on items, without a product brand.
The JCPenney company was rescued by Simon Property Group and Brookfield Property Partners. A partner in that effort is Authentic Brands Group, which has recently rescued Forever 21, JCPenney, Aéropostale and Brooks Brothers. They also own about 30 other brands. Today, Authentic Brands announced their $2.5 billion purchase of Reebok from Adidas.
A surviving part of Fieldcrest's legacy and history is the Clubhouse Resort, in Fieldale, Va. The lodge was the former Marshall Field & Co. "Clubhouse" used by executives, celebrities and dignitaries. It was built, long with the Fieldcrest Mills and the town of Fieldale, around 1919. Sarasota also has the private Field Club.
Below, images of the brand:
Here, a Fieldcrest towel from a decade ago.

Penncrest was the audio and electronic brand of JCPenney.

Close up of a Fieldcrest towel.

Fieldcrest image from the new collection of JCPenney. Courtesy JCPenney newsroom.

A vintage 1930s ad for Penco sheets.

A J.C. Penney counter in Pasco County, Florida.

Aisle at a Pasco County JCPenney.