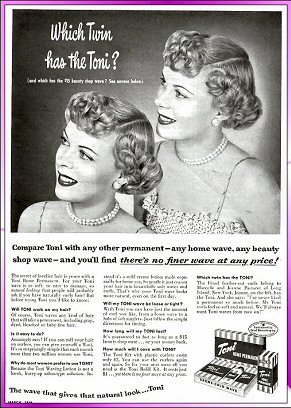 What happened to home perm maker Toni and those famous Toni twins?
Toni was synonymous with home permanents, and their advertising was all over game shows in the early TV era. Like Doublemint, Toni had twins in their advertising. An old ad from www.Old-Time.com tells the story of the brand, and the twins. (Note, the girls started looking hotter as the U.S. moved out of the radio era.)
Toni was purchased by Gillette in 1948 for $12 million from founders Neison and Irving Harris. Toni is still around a bit; the Toni Silkwave product is still sold at Walgreens. But its product line is no longer big and Gillette is now part of Proctor & Gamble.
But what happened to the other Toni products, including Toni shampoo? And then there was Tonette, the hair permanent for kids?
Gillette sold the remnants of Toni (what it called its White Rain line of hair care products) to Tampa-based Diamond Products Company in April of 2000, including a Gillette factory in St. Paul. According to The New York Times report, the White Rain line generated sales of $110 million in 1999 and then included brands like:
Adorn. At writing, still available at Walgreens.com.
Dippity-Do. Still available at Amazon.com.
Mink Difference
Tame
Lightwaves
Lilt Home Perm
Toni Epic Waves
Dry Look (Gotta love those groovy Dry Look bottles!)
Toni brands
White Rain (still around)
Here is the problem. Toni was part of the brand for all of these products. While some survived, they could not survive on their own. It would have been like trying to sell a Triscuit without the Nabisco in the corner.
BrandlandUSA Rule: Company Brands Are Important
There are product name brands. And then there are company brand names. Brand managers often disconnect the two. Often, a brand has been sold WITH the company name. Sometimes a company brand can become a product brand, or vice versa. This happened with Condé Nast Traveler. When Harold Evans started up the distinguished travel monthly, they picked the company name to give credibility to the new venture. These connections are decades old, and consumers only trust a certain product with a certain company name. Branding guys — you have to keep the company brand or things start screwing up. If you keep the company brand around, and keep it separate, you have two brands in your quiver, not one.
Kellogg's Frosted Flakes
Speed Stick by Mennen
Gillette Trac 2
Alberto VO5

Vogue

and

Vanity Fair

by Conde Nast
Old Spice by Shulton (then a Moosic, Pa. division of American Cynamid)
Lucky Charms and General Mills
Jell-O and General Foods.