It's time for Romper Room. Again. A Chicago company, River West Brands, has re-registered the defunct brand name, according to the USPTO.
If you lived at the tail end of the baby boom and into Generation X, you remember Romper Room. It was a brilliant concept, led by Baltimore schoolteacher Nancy Claster, who died in 1997. It was terribly educational and participatory, though kids did not know that. Unlike shows today, it got kids to actually move and interact. Here is a photograph of Connie Hindmarsh of Norfolk, Virginia, who was MY Romper Room teacher. She now operates Hindmarsh Studios, which sells children's toys.
The show started in 1953, by Bertram Claster, a producer of variety shows who created the concept. His wife Nancy joined the show as "Miss Nancy" after it started. She was perfect for the position as she had an early childhood education background. Hasbro bought Claster Television in 1969. Over 160 stations aired the show, which stayed on the air until 1994.
The show had "Do Bee" and "Don't Bee" segments, where bee-costumed person highlighted good and bad behavior. The shows ended with the Magic Mirror. Miss Connie would look at kids through the mirror and say that she could "see" them at home while reading their names.
Our first theory as to why they disappeared was that TV stations in the 1960s and 1970s had F.C.C. restrictions that forced them to broadcast a certain amount of local and children's programming. That might be true, but TV Party website host Billy Ingram posits the theory in a WGN radio interview that the local shows were dropped at the insistence of meddler Peggy Charren, who crusaded against children doing product promotions.
TV stations dropped kids programming, cable networks like Nickelodeon were created and PBS took over most of the broadcasting of children's educational programming. Live, local shows, like Romper Room (and hundreds of others) died. The show was cancelled, and the brand died, though River West Brands of Chicago has revived the trademark.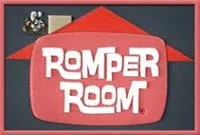 What would a Romper Room look like? How would a new show be relevant?
First,

it HAS to be live

at least sometimes. The live aspect was what gave it its spontaneous feeling, and it also made it a very low cost production. Of course, episodes can be taped, but showing it live gives it a (good) danger factor!

(True story. Child to hostess: I have to pee-pee. I am doing it NOW!)

It should probably re-launch as a

test in a minor or medium market

, to give it time to work. TV stations have many one-off slots on weekends, and it would be there, in a middle American medium market, that new a new hostess could figure out what worked with today's kids. Figuring out how to make this work with a new generation will not be easy, and new management would need the space and time to test how a current generation would react.
Eventually, a

live version

could operate at a theme park, a place like Disney's Hollywood Studios, where it could serve as a semi-permanent attraction AND as a syndicated show. Disney already has a relationship with Hasbro, which owned (owns?) the brand.
It needs to be

low tech

. Children who are ages four to six have way too many loud and overly electronic things in their lives. If you see a pre-kindergarten child in action, you know that kids do not play with toys as expected, and want to do things that are physical.
Don't forget the

licensed toys

. The original show sold toys like Romper Stompers (still sold by Hasbro), which were basically plastic cups with strings attached that you could walk around the room. Other Romper merchandise included colorful jai alai-like scoops, for kids to throw and "lunge" balls to each other. There are some Romper Room toys that are still around, including the Inchworm, which is no longer sold under the Romper brand. Any toy that happens to "appear" on the set would be great product placement.
It HAS to have the

Pledge of Allegiance

. Part of what made it great was that it SEEMED to kids like a big kids' school room, but it was fun.
It must have a female host, preferably a teacher who knows how to get five years olds to do an effective circle time. That is not to say that it can't have a bit of cleverness; Pee Wee's Playhouse was the 1980s version of Romper Room, and it what made that show were the great characters. Who could forget animator Dave Powers' brilliant Conky character?
While Nickelodeon Splat is fun,

it needs order

, a bit of regimentation as it is most popular among kids who are just going into kindergarten and first grade, when schools need to teach "listening skills." Miss Connie (Connie Hindmarsh, my host at WVEC in Norfolk) made the kids BEHAVE.
It had

live commercials

; the kids could participate. For instance, in Norfolk at WVEC, it was sponsored by Camellia Foods, a great regional grocery wholesaler and grocery brand. A personal recollection was that during my week, I brought in some cut out Camellia milk carton labels that I had pasted to green paper. I then got to help Connie do the Camellia commercial. Talk about product placement!
Above all, the show had a purpose. Claster's daughter told the Times that:
'The core of her curriculum was really the belief that 'Romper Room' was for the children at home," Mrs. Bell said, "and that everything that the children saw on television, whether it was just plain fun or educational — and a lot of 'Romper Room' was educational — should be set up so that children at home could participate.

"If children on television were walking on a balance beam for hand-eye coordination, the children at home were shown how to use a string on the floor, so they didn't have to be kids who had to buy equipment to participate."