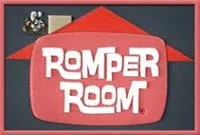 PAWTUCKET, R.I., and SILVER SPRING, Md. – Hasbro, Inc. (NYSE: HAS) and Discovery Communications (Nasdaq: DISCA, DISCB, DISCK) will join to turn Discovery Kids into a new cable network.
The most interesting point? They mention that Romper Room, a brand Hasbro dropped years ago, will be revived on the TV cabler. (Read our June 2008 post advocating the renewal and continued value of the brand entitled Where's Romper Room. In the post, we set out the parameters for a Romper Room redux, and showed the value in the forgotten franchise.)
Last year, we noticed that the defunct brand had been registered as a television brand by River West Brands of Chicago, but it appears looking at the USPTO site that Hasbro has the rights.
Both the network and the venture's online component will feature content from Hasbro's intellectual property including original programming for animation, game shows, and live-action series and specials. The press release said new programming will be based on Hasbro brands such as Romper Room, Trivial Pursuit, Scrabble, Cranium, My Little Pony, G.I. Joe, Game of Life, Tonka and Transformers. The Discovery brands include Bindi The Jungle Girl, Endurance, Tutenstein, HI-5, Flight 29 Down and Peep and the Big Wide World.
"Hasbro continues to evolve as a company with an unwavering vision of reimagining the potential of our incredible portfolio of brands well beyond traditional toys and games," said Brian Goldner, Hasbro's President and CEO, in a press release. "Today, consumers are embracing our powerful brands through unique and immersive entertainment and educational experiences in a number of areas, including movies and new digital platforms.
"We believe the time is right for Hasbro to take the next step into television through our partnership with Discovery Communications," continued Goldner. "David Zaslav and his talented team have the experience, track record and ambition necessary to make this joint venture a long-term success as we build this network."
"This joint venture reinforces Discovery's strategy to develop strong brands, maximize the potential of our extensive distribution in the U.S. and work with the highest quality content partners to create long-term value," said David Zaslav, President and CEO of Discovery Communications.
Annoying children's television haters criticized the deal as running the risk of overly commercializing children's television, but they are always pulling this sort of junk. They are laughable in an era when other, less civic-minded networks like Viacom's MTV, are busy sexualizing pre-teens with vulgar programming, and receive no criticism at all from these supposed do-gooder groups. We urge busybodies like Susan Linn Campaign for a Commercial Free Childhood and Robert Weissman of Commercial Alert to start worrying about real things.
At the closing of the transaction, Hasbro will purchase a 50% stake in the venture, which will hold the assets related to Discovery Kids Network in the U.S., for which Discovery Communications will receive $300 million. The joint venture's re-branded network is expected to debut in late 2010 reaching approximately 60 million Nielsen households in the U.S. with programming geared to boys and girls 14 years of age and under. The joint venture also will participate in merchandising opportunities associated with on-air content. The closing of the transaction is subject to customary closing conditions including satisfaction of all requirements of the Hart-Scott-Rodino Antitrust Improvements Act of 1976.
Each company will have equal representation on a board of directors that will oversee a management team responsible for programming, scheduling and operations. The search for a President and General Manager for the network will begin immediately. Discovery Communications will handle advertising sales services, distribution, origination and other operational requirements for the proposed venture, while Hasbro will provide studio-produced programming.
Hasbro will also make a separate investment to establish a creative team in the next few months that will allow Hasbro to create and produce the consumer-driven content children and families have come to expect from Hasbro's unmatched brands. The creative team will have the capability to produce animated, live-action, and game show programming as well as content designed for digital and mobile extensions.
Programming on the network will be designed to entertain and educate, echoing the popularity and appeal of Hasbro's portfolio of brands and Discovery's long-standing commitment to life-long learning with the goal of making our emerging networks more valuable to affiliates and more compelling for viewers. In the tradition of Discovery Kids, this will include a number of daily hours voluntarily devoted to educational/informative content.
The network will continue to operate as Discovery Kids until the debut of the to-be-named channel and new programming slate. Discovery Communications will retain the Discovery Kids brand for, among other things, its international networks and its licensing and merchandising business.
Launched in 1996, Discovery Kids Channel has won multiple Daytime Emmys and Parents' Choice Awards for its series and specials. Discovery Kids programming helps children satisfy their curiosity about a full range of science, adventure, exploration and natural history topics through documentaries, reality shows, scripted dramas and animated stories.
Hasbro was advised by The William Morris Agency, John Fogelman of WMA and Bank of America/Merrill Lynch & Co. in connection with this transaction.
Discovery was advised by Paul, Weiss, Rifkind, Wharton & Garrison LLP.