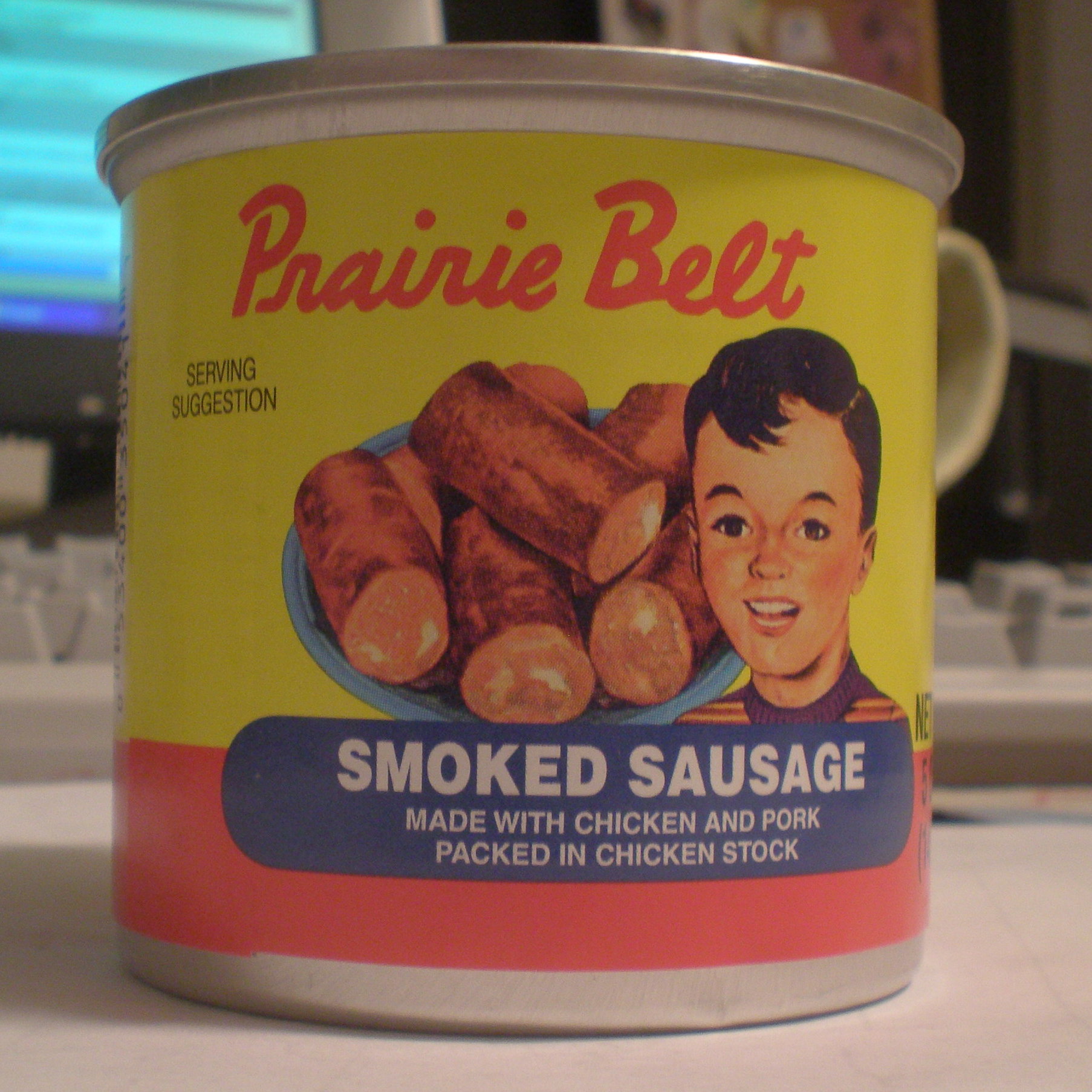 Cousins to Vienna Sausages, but darker? Try some Prairie Belt Smoked Sausage! In case you didn't know or can't read, the serving suggestion on the front shows that the sausages are best eaten on a plate, stacked. Thank you for that.
The sausage was distributed by Castleberry's Food Company from Augusta, Georgia. This gem of a food product was on the shelves of a Dollar General store in Sarasota's Gulf Gate area. Dollar General is a genius font of beautiful old brand names.
The invention of the product dates from 1951, as does, perhaps, the haircut of the boy.
The yellow is a real yellow, and it hits just right with a red script of the logo. The date of the first use, according to the trademark office, was New Years' Eve, 1951. My how things have changed at New Year's Eve parties since 1951.
The 2006 packaging had main ingredients including mechanically separated chicken, beef tripe, and pork skins. Next down the hatch is the old corn syrup. Also present, pork stomachs. But that is down the list.
Aficionados will note that they are best served fried in butter in an iron skillet, though they are tasty when eaten on camping trips, and protein is scarce. Those who love canned sausages such as Vienna Sausages know that in case you do not have a knife, the pull off top of the can can be used to cut the sausage neatly in half. This would not be a recommended game for children, though it is the habit of many kids in the South who grew up on such things as canned meat. The name is the actual name of a place in Mississippi.
In 2006, Prairie Belt was owned by Prairieland Foods of West Point, Mississippi, then Castleberry Foods of Augusta, Georgia. Most recently, the U.S. Patent and Trademark office had the ownership as Bumble Bee Foods of San Diego, Calif. Bumble Bee renewed the trademark in June of 2020, which means that someone out there appreciates the brand, and is willing to keep up with it.
Note: Story updated 7-21-2021